Many Malaysian voters want to return home to vote in the upcoming Malaysian elections, GE14. But many are worried they've guessed the wrong date if they've already booked a ticket. Malindo Air is the second airline to offer a change fee waiver to affected travellers.  Cathay Pacific was the first.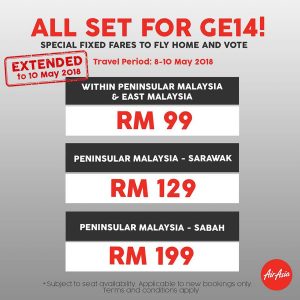 UPDATE (2) 13th April: Malaysia Airlines has announced that it is adding capacity to flights over the election period. This will be done using additional aircraft as well as upgrading some service to wide-body A330s. For more information. Be quick as our checks show flights are going very quickly!
UPDATE 13th April: AirAsia has stepped up to offer fixed fares on domestic routes. But you'll need to be quick, these will go fast. Please also note that the dates have been extended to 10th May.
UPDATE 10th April: AirAsia has just released their waiver information, with the announcement of the polling date as 9th May 2018. Their full statement includes information on eligibility and application for the waiver.
Update 11th April (2) : Malaysia Airlines, together with its sister airlines Firefly and MASwings, will be waiving flight change fee for Malaysians with existing bookings with the airline during the upcoming 14th General Election on 9 May 2018. The full statement is HERE.
Malaysian elections – why fly home?
Malaysian elections must be held every 5 years, although the polling date is not fixed. The only certain thing is that polling must be held within 60 days, 5 years after the start of the last parliament if not held earlier. That date was the 24th June 2013, so the election must be held by the 23rd August 2018. Speculation about the date has now reached a fever pitch with many people with travel plans affected in different ways.
Who's affected, what's the solution?
If you are in a category eligible to apply for a postal vote, it must be submitted at the designated location. Otherwise, you must vote where you are registered. That means returning to that constituency, if you are out of town or overseas.
While the general conditions are likely to be similar, (see Malindo Air's conditions) they're available only for Malaysian citizens. (Cathay Pacific conditions)
They will cover travellers who:
Have booked a date they think is the 'most likely'.
Have booked a trip/holiday and need to delay departure/return early to vote.
Are working in one location, but registered in another. A change of destination is possible if you are away from both and need to return. There may be some fare difference which will be payable.
If you have any queries or special concerns, please contact your airline directly. We are awaiting similar statements and replies from other airlines, including Malaysia Airlines and AirAsia. Updates will be added as and when they are available.
image©LL90. Malaysian elections may not have the same type of poster wars of days gone by, but they are still colourful affairs.