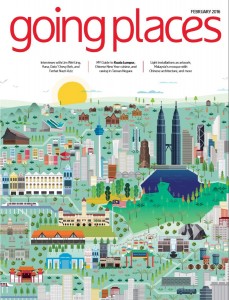 Travellers on board Malaysia Airlines flights will find the relaunched in-flight magazine, 'Going Places', in their seat pocket come February 2016. The revamped magazine was unveiled at an event in Kuala Lumpur recently, welcomed by a troupe of lion dancers, in view of the upcoming Chinese New Year celebration.
…. All great brands constantly evolve and Going Places is no different. We are very excited about the new look and editorial content which is all about celebrating the diversity and richness of Malaysia. This very much reflects the airline's position as the new flag carrier of the country.  The new editorial line up will feature fresh and exciting content produced with the insight and intelligence that readers expect from our team of talented writers. Charles McKee, Head of Marketing of Malaysia Airlines
The new 'Going Places' appearance is marked by an original cover design and features a new masthead using illustrations to capture the overall feel of a selected city for which a guide will be developed as part of its monthly content. Cover information is conversational in tone and will instantly tell readers what is available inside.
The new Going Places features the following:
A New Look – A distinctively recognisable cover design and a refreshed layout with greater use of illustrations and new typefaces,
Reorganised Content – Six new sections have been introduced to cater to passengers' varied reading interests, including profiles of successful Malaysian individuals and companies, globetrotters' travel tips and recommendations, insider guides to popular cities, community focus features and new network maps, for starters.