Malaysia Airlines has launched a revamped booking system, a much-needed refresh of what is arguably the most important part of any airline's website. The old website wasn't dreadful, but the new system does add some improvements, such as:
[lists style="thumbs-up"]
clearer connection information
complete fare rules
better comparison of fares over a date range and different fare bases
alternate airports, such as offering KUL and SZB for comparison (handy for some, confusing for others)
[/lists]
I haven't found a way to confirm the number of Enrich miles you'll earn on each fare, and it's not always listed in the full fare rules. With airlines often cutting or dropping frequent flyer miles on deeply discounted fares it's always good to check up on this before booking. Here's a snapshot of what it was like last week: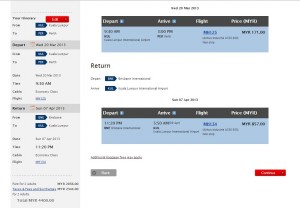 And here it is again this week (the fare change is interesting too!)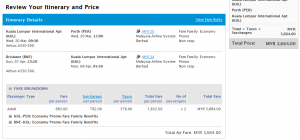 Here's the new comparison screen where multiple connection options exist: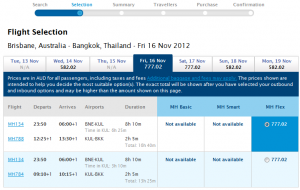 What do you think?
Handy hint: Air France start flying to Kuala Lumpur from April next year, so look out for some good introductory fares to Paris around that time.