On December 22nd 2014, Malaysian Airlines has announced a partnership with Australian tennis sensation Nick Kyrgios.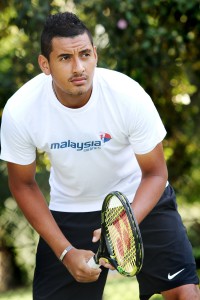 Nick Kyrgios rose to world tennis prominence during the 2014 Wimbledon Championships with his brilliant advance, beating World No 1 Rafael Nadal to reach the quarterfinals where he lost to eighth seed Milos Raonic. This dream run lifted his world ranking from 144 to 66. He is currently ranked at No 52.
Like most 'overnight successes', the nineteen year old has actually been working away steadily through the Junior Tennis Championships to get where he is today and this determination bodes well for the future. Following his first ITF junior tour title in Fiji in 2010, he played his first junior Grand Slam in the Australian Open in 2011. After winning two junior Grand Slam doubles titles in 2012, he claimed his first junior Grand Slam singles title at the Australian Open 2013. In 2014, Nick won the Newcombe Medal as the nation's outstanding player and helped Australia's Davis Cup team retain its world group place. 
During the announcement at the Rushcutters Bay Tennis Courts in Sydney, Australia, Nick said he is determined to another level in 2015 and added that becoming an ambassador for Malaysia Airlines is at the heart of striving to make improvements on and off the court.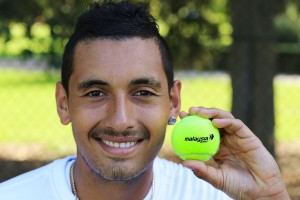 He added that "A professional travel partner is as important as a good doubles partner. With tournaments all around the world it's essential to arrive at events physically and mentally fresh and able to compete with the world's best players."
Although Nick Kyrgios was born and brought up in Australia of Greek/Malaysian parentage, he explains he is really proud of his family culture and very close to his Malaysian family. He said "I've flown with Malaysia Airlines to visit them since I was a boy and my mum and extended family have always associated the airline with home. I feel privileged to become a friend of the airline – it will enable me to keep that important link with my family culture."
Regional Senior Vice President of Malaysia Airlines, Mr PK Lee, said during the ceremony, that the collaboration with Nick is a result of two parties sharing a common heritage, as well as a desire to achieve excellence.
He said "We are delighted to partner with Nick Kyrgios because he is not just a quality player, he's a world-class sportsman with a level of passion and charisma that makes him universally admired.
His breakthrough performances on the world tennis circuit moved us all this year and we're determined to help him achieve his dreams in 2015 and rise even further up the world rankings."
Mr Lee said Malaysia Airlines had the ability to 'serve up' Kyrgios to tennis events across Australasia, Asia, the UK and Europe, with 81 flights a week direct to Malaysia from Australia and New Zealand making Kuala Lumpur the hub to more than 60 destinations worldwide. Key flights included the state of the art A380 double daily to London and daily to Paris.
"Nick is the future of Australian tennis," Mr PK Lee said, "and we're thrilled to be helping him reach great heights."
For more information or to make a booking, visit the website or call Malaysia Airlines' Reservations on 13 26 27. You may also make bookingsthrough a travel agent. All bookings must be made at least 24 hours before flight departure.