Malaysia Airlines and Emirates have inked a new agreement enhancing the level of their existing Interline agreement to that of a Reciprocal Codeshare Partnership.
Expanded global reach for both Emirates and Malaysia Airlines customers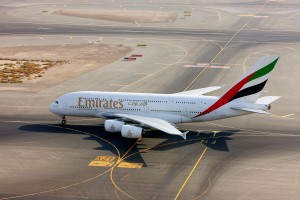 The effect of this new agreement, signed by Emirates' President Sir Tim Clark and Malaysia Airlines' Chief Executive Officer Christoph Mueller, will be to enable Malaysia Airlines to connect Malaysia by adding its code on Emirates flights to more than 90 destinations on the Emirates network across Europe, Middle East, Africa and the Americas while enhancing frequent flyer benefits.
Emirates will add its code on flights of Malaysia Airlines to domestic routes in Malaysia, South East Asia and selective cities across the Asia Pacific region. The codeshare will be implemented progressively throughout 2016 subject to regulatory approvals.
In practical terms…
Malaysia Airlines' customers will have access to 38 European, 15 Americas and 38 destinations in the Middle East and Africa and Indian Ocean
Emirates' customers will have access to Malaysia Airlines' extensive Asia Pacific network with up to 300 daily departures in the region.
Sales under this codeshare agreement will commence from February 1 2016.
Enhanced Benefits for Customers
…The strategic partnership paves the path towards an integrated customer proposition offering for both airlines.
The improved connectivity will enable Malaysia Airlines customers to reach up to 38 destinations in Europe on a daily and even double daily basis for key European cities such as Zurich, Rome, Munich, Frankfurt, Madrid, and Barcelona. This partnership gives our customers access to a dramatically expanded range of travel options. It is a great way for customers to travel seamlessly to major cities across the world. Furthermore, Dubai is a tourism, trade and logistics hub which has earned itself the reputation as being the gateway between the East and the West. Not only will this provide Malaysians unprecedented super-connectivity to the whole world, it will also make it much easier for travellers from all corners of the globe to visit Malaysia and experience its rich culture, nature and Malaysian hospitality. This is part of the national carrier's initiative towards enhancing air connectivity with key priority markets overseas for increased tourist arrivals into Malaysia. Malaysia Airlines' CEO Christoph Mueller
…Our new codeshare agreement with Malaysia Airlines will enable our passengers to experience new destinations and improved connectivity in the ever-popular Southeast Asia region, and also additional comforts such as reciprocal lounge access and priority check-in. Malaysia Airlines' extensive network in the emerging Southeast Asia region perfectly complements Emirates' global network and enhances the choice of travel destinations for customers in both the business and leisure segment. Sir Tim Clark, President Emirates
Image credits©Emirates, Malaysia Airlines