Malaysia Airlines have expanded their MHflypass ASEAN Travel Pass as borders reopen and global travel restrictions ease. The move will help revive the tourism industry with a fixed-rate pass allowing multiple trips all-year round to destinations across the ASEAN region, offering an introductory rate of RM1,299 for the most basic pass.
MHflypass ASEAN offers a variety of inclusions, with worry-free travel at affordable rates, to an expanded list of regional destinations.
MHflypass ASEAN
The ASEAN pass comes as an addition to the existing MHflypass introduced in April 2021 offering flight coupons for domestic travel within Malaysia. With the introduction of MHflypass ASEAN, passengers can now fly to 12 cities within ASEAN through Malaysia Airlines' extensive network. Each pass comes with six tickets, equivalent to three return trips, or six one-way trips between the ASEAN cities of choice.
To cater to the needs of various types of travellers, MHflypass ASEAN is categorised into three zones and if you purchase by 5th June 2022, you'll get a discount of RM200.
Zone 1 passes offer flights between Kuala Lumpur and nine cities in Indonesia, Singapore, Thailand, Vietnam, Cambodia, and Myanmar. The All-Year Round fare is RM1,499 (introductory price: RM1,299)
Zone 2 passes enable travel between Kuala Lumpur and Manila, Hanoi, and Bali. This will set you back RM2,099 (introductory price: RM1,899).
Zone 3 passes can be purchased at RM2,699. Encompassing the widest choice of destinations, with an introductory price of RM2,499.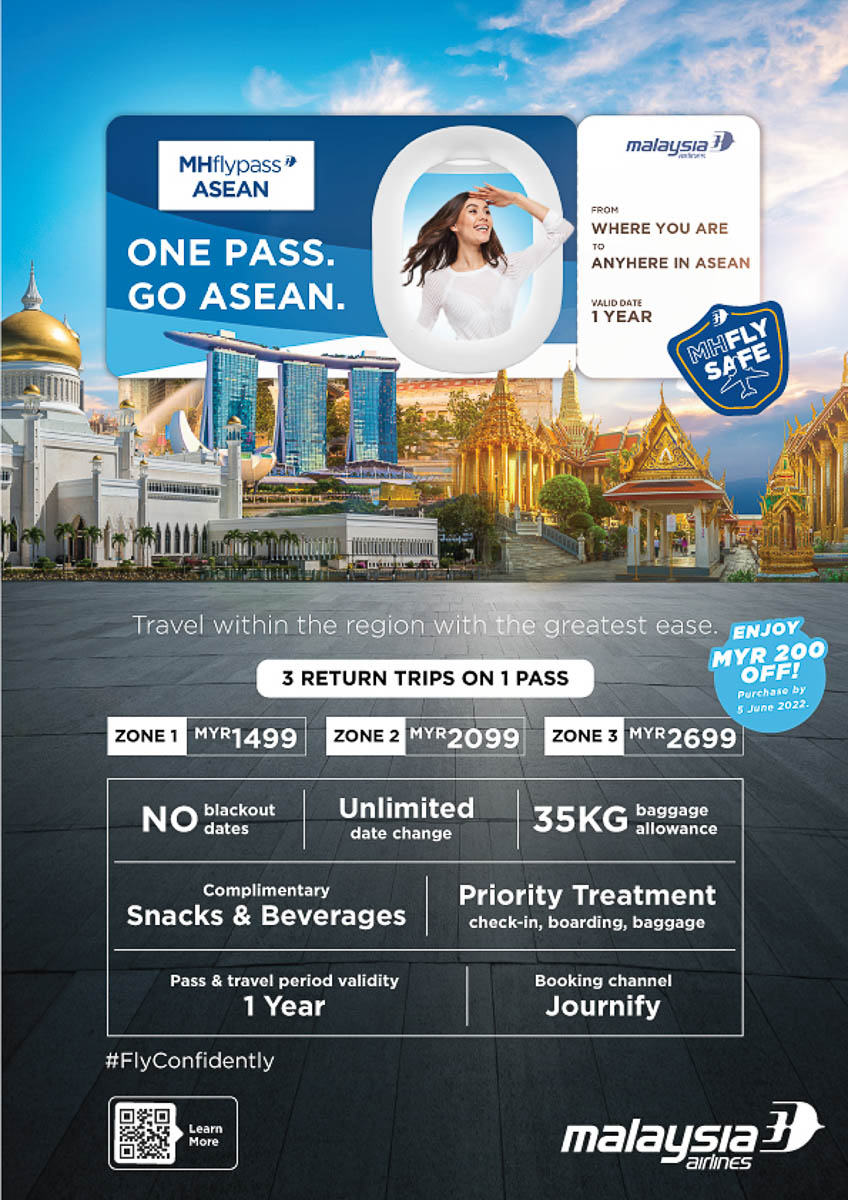 Group Chief Marketing and Customer Experience Officer, Lau Yin May says the expansion of MHflypass is timely as it offers flexible, convenient, and affordable travel options. The airline has added more destinations to the MHflypass offerings beyond Malaysia following the border openings in more countries.
….. This exciting expansion gives our passengers a greater range of cities to discover, simultaneously revitalizing the tourism industry across the ASEAN region. With accredited COVID-19 measures put in place for our passengers to #FlyConfidently, we look forward to welcoming them back on board. Lau Yin May
What you get
MHflypass offers

Flexibility with a validity of one year no blackout periods.
Pass holders can redeem flights all year round, even during peak periods or high seasons, subject to availability.
It also comes with
unlimited flight changes

allows passengers to alter their itinerary at no charge.
If you arrive at the airport earlier, the included Go-Show Flexibility benefit allows you to board an earlier flight with the same travel itinerary, if this is available.
Passengers enjoy a range of MH Economy Flex tier benefits. These include:
priority check-in
priority boarding
priority baggage drop
Tickets redeemed using MHflypass also come with
complimentary meals
snacks and beverages
extra baggage allowance:

7kg of cabin baggage
35kg of check-in baggage.
The conditions
Of course there are terms and conditions which you should note before you book. These are all listed clearly on the booking page for each type of pass. 
The pass allows up to 3 return trips.
Valid for 12 months upon purchase.
No refunds or cancellation once the voucher is purchased.
The pass is non-transferable, which means it cannot be transferred to another person.
The pass is not applicable to children and infants.
Exclusive for Enrich Members only.
You can check out the Passes at journifyshop.malaysiaairlines.com and select the pass that suits your travel needs. You can also get more information and updates on the Malaysia Airlines website. Download the Malaysia Airlines' App to get the latest promotions.