With state borders reopening and the rapidly increasing number of flights coming onstream, passengers are heading to KLIA/klia2 to take off on long awaited holidays and business trips. In response, Express Rail Link Sdn Bhd (ERL) has taken the opportunity to introduce its new KLIA Ekspres App and EkspreSmiles loyalty program at a virtual launch event officiated by the Minister of Transport Malaysia today.
KLIA Ekspres App and EkspreSmiles
During the virtual event on KLIA Ekspres Facebook Live platform, Transport Minister Wee Ka Siong made reference to public enthusiasm for business emphasis on going digital and going cashless in daily transactions, including on public transport.
He noted that:
…. ERL has been at the forefront of cashless solutions for a while now. ERL was the first rail service in Asia Pacific to accept Visa contactless payment at their gates in 2010, launched their mobile app in 2013 and now accepts almost all digital/e-wallets at the counter and online.
ERL's Chief Executive Officer, Noormah Mohd Noor concurred, adding that ERL is using the advancement of technology to improve customers' purchase and travel experience by providing them better features and value. The new EkspreSmiles loyalty program is a way of rewarding loyal customers.
…. With the easing of travel restrictions from this week, more people can now travel for business, work and leisure purposes so we hope the launch is timely to get the public to travel by public transport again and benefit from this app. Noormah Mohd Noor
Go Cashless, Collect Rewards
The newly-upgraded KLIA Ekspres app allows customers to buy their train tickets more easily and find better deals with  "Lowest Fare First" and "Great Value Recommendations" features. Customers can sign up as a member of the new EkspreSmiles loyalty program earn EkspreSmiles Points for every successful booking. Redeem these points to enjoy better discounts on future purchases.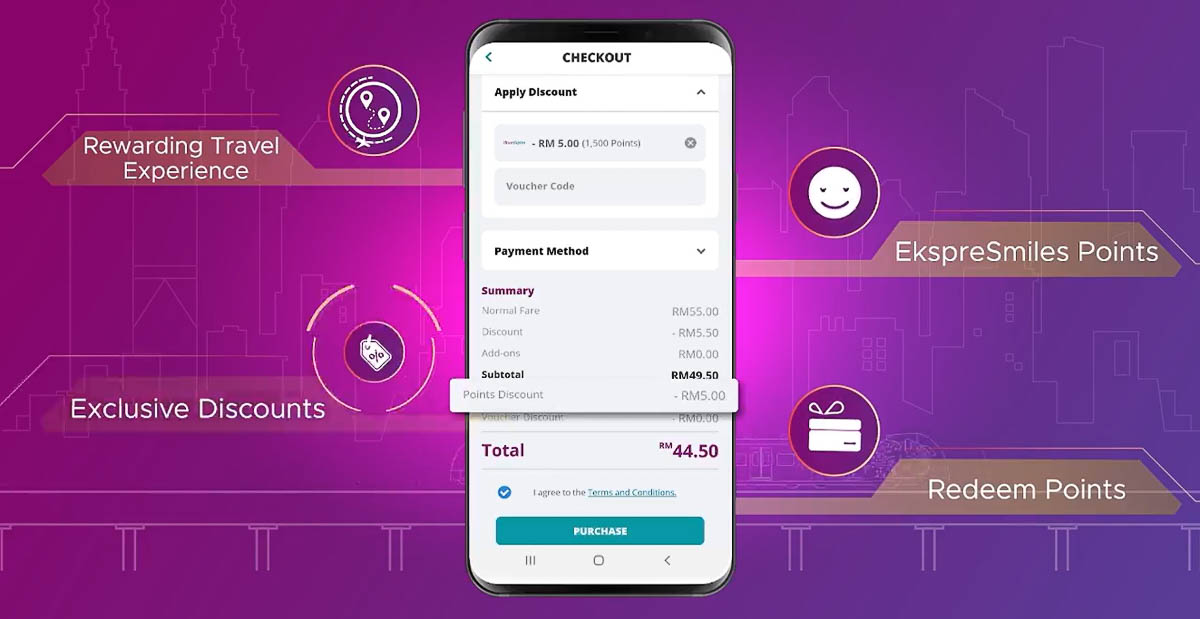 During the launch campaign period from 12th October to 15th December 2021, customers will get double points when they sign up as an EkspreSmiles member and  enjoy double points for ticket purchases. The bonus points can also be earned when purchasing packages and certain discounted fares such as the popular Family Package and Group Saver.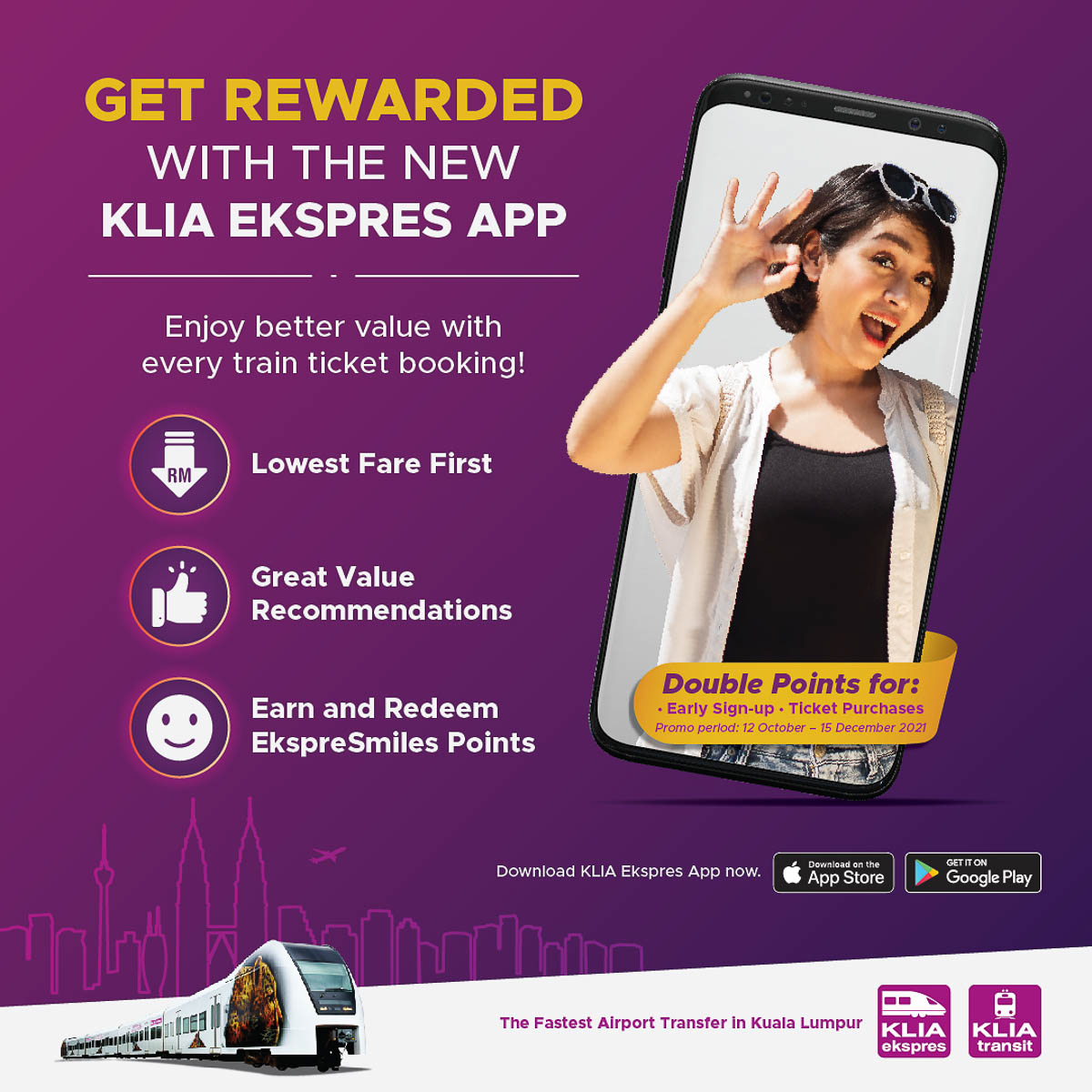 RM1 Joyride
To encourage the public to try the app and train service, the Minister unveiled a Special RM1 Joyride event for the public once Klang Valley residents can travel freely again under the National Recovery Plan.
The joyride will be held on one weekend in November with dates to be announced by ERL on its social media platform.. Don't miss out, bring along your family members and friends. The last time ERL had a joyride, this writer hopped on board with three very excited children and their mum in tow, who very much enjoyed their 'zippy trip'.  Download the latest schedule HERE. 
Launch Offers
ERL is also running two great campaigns in conjunction with the launch. More information can be found on its website, www.KLIAekspres.com as well as on KLIA Ekspres Facebook and Instagram pages.
Get 3,000 EkspreSmiles Points worth RM10,

exclusively for the first 10,000 members who have been vaccinated.
For details on the Get Vaccinated Reward offer,  click here

Enter the Download & Win Contest

stand a chance to win the grand prize of one-year unlimited travel on ERL train service.
The contest runs from 18th October to 28th November 2021.

For more details of the contest, click here or visit the KLIA Ekspres Facebook and Instagram pages.