Malaysia's capital Kuala Lumpur (KL), has long been a popular transit destination for travellers connecting to South East Asia and beyond. Whilst sometimes overlooked as a destination of its own, the bustling metropolis of some 7 million people is actually an exciting melting pot of cultures, food and history, as well as a shopper's dream. Sitting just 350km from the equator, this enormous city can get hot. So having a plan of where you want to go in this sprawling city is key to having the best experience of KL. We've compiled a guide of all the things a first timer should see and do in KL.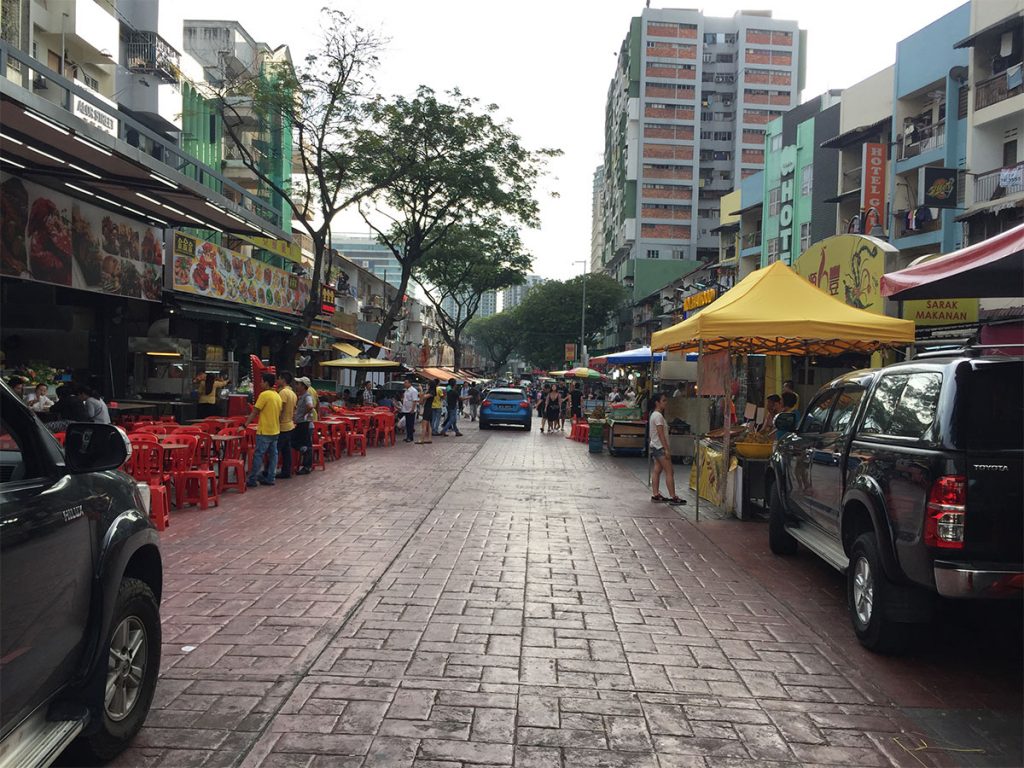 First things first
Getting into town couldn't be quicker or easy with the KLIA Ekspres service – a high speed rail line that connects both KLIA & KLIA2 airports to KL Sentral station (70km away) in under 30 minutes. A return ticket costs MYR 100 (approx. AUD 30), so if travelling if a group it may be more cost-effective to catch a taxi or rideshare services. Uber and its local competitor Grab are legal and ubiquitous. For those travelling on a budget there is are also coach services from the airport to the city for around MYR 10 (approx. AUD 3). Travelling by road from KLIA/KLIA2 takes roughly 45-60 minutes depending on traffic conditions.
Where to Stay
KL has a massive range of hotels for all budgets and styles. For this guide, we have recommended 3 options to suit; Budget, Leisure & Business travellers.
Budget
If you're not looking to stay in a hostel, but want to save some money without sacrificing too much comfort or location, try the Tune Hotel Downtown. Located in the heart of Chow Kit, this bare-basics hotel will have you perfectly positioned to reach all of KL's major attractions. Tune hotel provides clean, comfortable albeit compact rooms with all the essentials such as Wifi, TV, air conditioning and private bathrooms. When you're out all day and night making the most KL, this hotel is perfect to shower, cool off and rest your head at the end of the day.
Leisure
Our Leisure traveller option is for those who love boutique hotels, and know they often like to have a 'pool day' in between sightseeing. The KL Journal Hotel is perfectly located in the heart of the entertainment district Bukit Bintang. The hotel is a short walk from Jalan Alor – one of KL's most famous street food markets, as well as premium shopping malls. KL Journal is well equipped with all the comforts of any major luxury hotel. But the standout feature of its rooms is the premium underlay comforters found on each bed. The funky design, a tribute to the city of KL, follows you from the suites to its bar and restaurant to the rooftop infinity pool area. The hotel also features a gym as well as business centre and meeting rooms.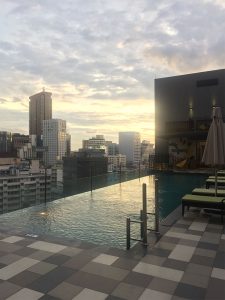 Business
A great option for those visiting KL on business or leisure is the Gtower Hotel near Ampang Park. This 5-star hotel is the perfect sanctuary from the hustle and bustle of KL. With all the luxurious amenities expected from a business hotel, guests will feel refreshed and focused. Featuring a fully equipped fitness centre, 2 pools and a variety of restaurants, there's not a lot of need to even leave the complex. A good food court in the basement of the building reinforces this notion. An awesome feature of this hotel is the Bridge Bar lounge on level 28 and the increasingly popular View nightclub on level 29.
Things to do
There are literally hundreds of shopping malls across the city, but a KL institution you must try is the Petaling Street flea market. A short stroll from Pasar Seni LRT station, the markets are perfectly placed in Chinatown and are a great starting or finishing point from other sights and landmarks. The open-air markets sell a plethora of goods from clothing to gadgets and are your one stop shop for Malaysian souvenirs. As with any market in South-East Asia, your haggling abilities will be key, and you're best to do a couple of rounds before you settle on your purchases.
Food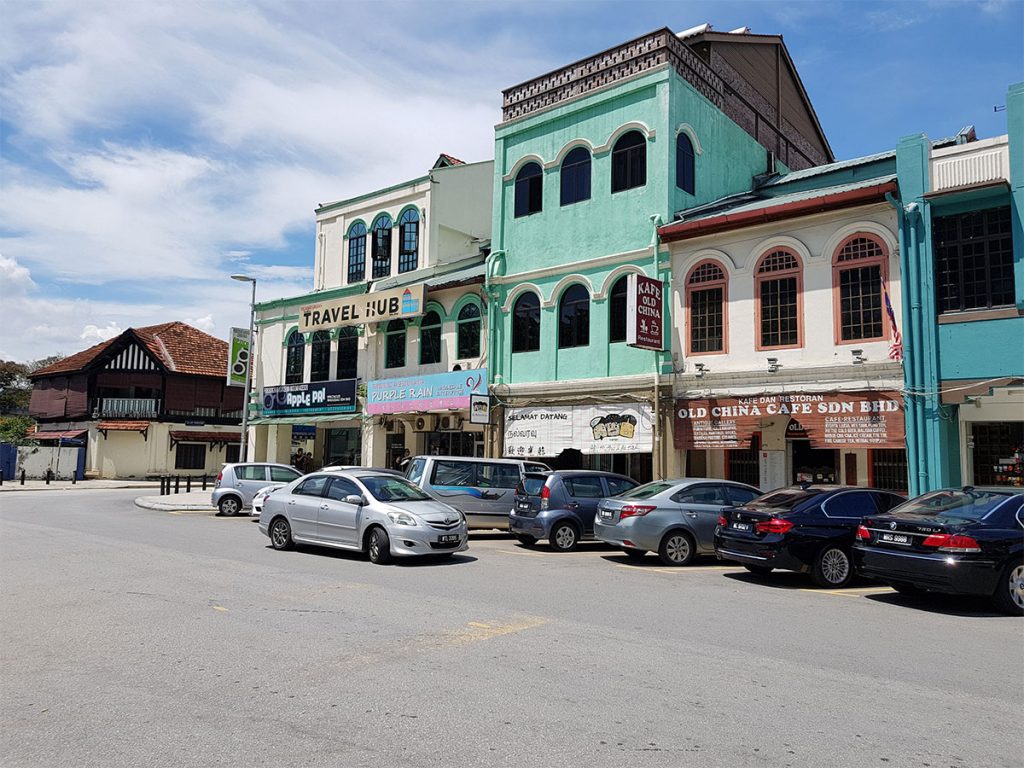 After building up an appetite from shopping, why not try one of Malaysia's most iconic dishes – nasi lemak. Traditionally a breakfast dish, chicken is served with rice, sambal (a spicy prawn paste), nuts, anchovies, cucumber and a boiled egg. Nasi lemak is the perfect dish to try even for those who are a little afraid to be adventurous. Just around the corner from Petaling St on Jalan Balai Polis, you'll find –  Ali, Muthu & Ah Hock. Serving up an array of dishes, this clean, cheap and cheerful restaurant is my number one recommendation for nasi lemak. I personally love the fried chicken nasi lemak!
Coffee Culture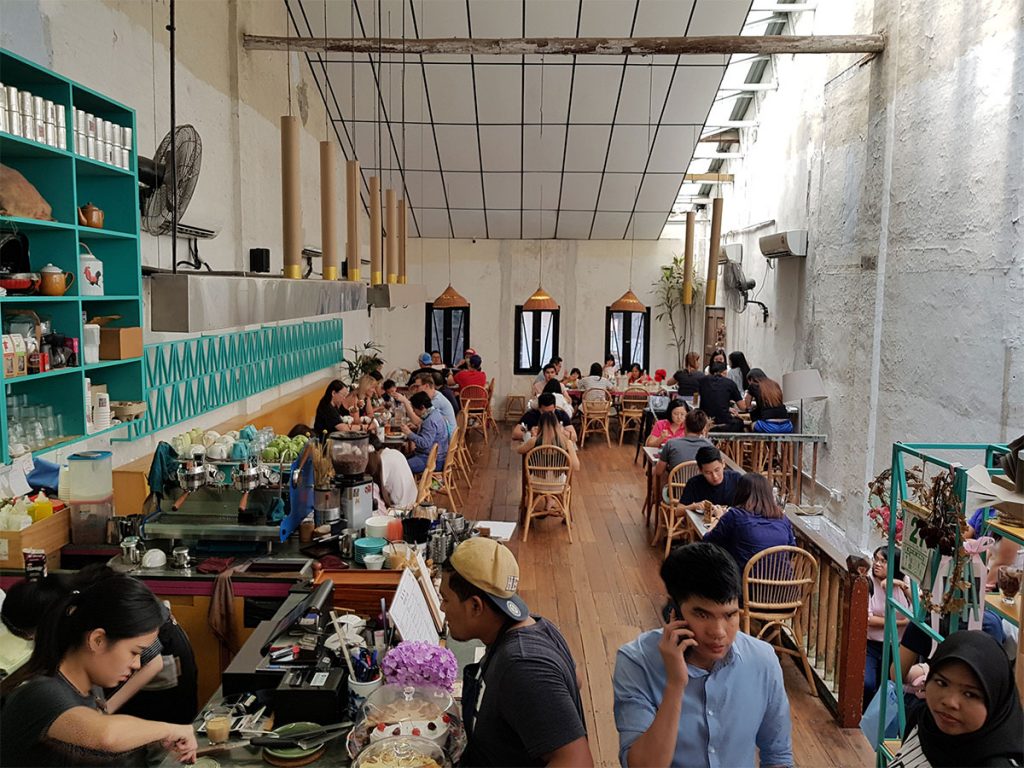 Coffee culture seems to be exploding in KL in recent years, with no shortage of great cafes. Nowadays, good coffee is not enough, atmosphere is everything – even if just for a good Instagram shot! If you want to try somewhere really unique, check out Merchants Lane. A very hip café, Petaling St adjacent, where the coffee is as good as the décor. Relax in the air conditioning or enjoy the ambience of the back deck. But beware: on weekends this place gets very busy.
KL Bird Park
We discovered one activity which will leave you feeling as if you've escaped the city and takes no time at all: KL Bird Park. About 5 minutes' drive from KL Sentral, the KL bird park is within the city's Lake Gardens. It's an enclosed sanctuary where visitors can admire avian beauties, both local and from afar. Even if you're not that into birdwatching, it's just a lovely place to enjoy some shade and breeze after the heat of the streets.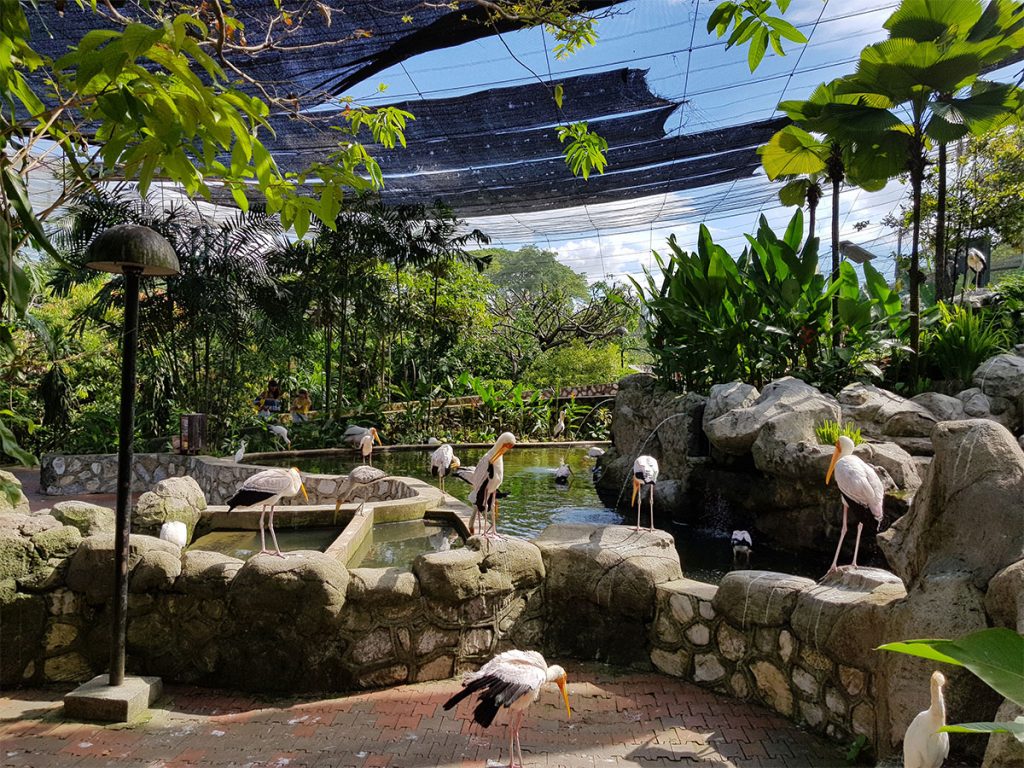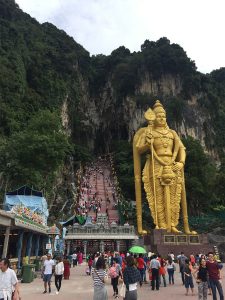 Batu Caves
Another KL must-see is Batu Caves. Easily accessible by train, the caves are located just 30 minutes out of the city. You'll likely build up a bit of a sweat as you climb the 272 steps, but will be rewarded as you reach the entry of the 400-million-year-old limestone cave. It is a sacred site for Hindus as evident from the 140ft statue of Lord Murugan, a Hindu deity. Look out for is a few cheeky monkeys who call the cave home, as the cave's tour guides will point out.
Landmarks
You may not get to all these in the same day or even the same trip, but KL is filled with some larger-than-life landmarks visitors will instantly recognise from postcards and magazines. First and foremost are the Petronas Towers. Soaring to 451 meters, they hold the record as the tallest twin towers in the world. Another way to admire them is from nearby KL Tower, or Menara KL. A dizzying 421 meters tall, visitors can enjoy panoramic views from the observation deck and even watch base jumpers plunge from its roof. If you prefer to stay at street level, check out other iconic KL landmarks such as Merdeka Square and Masjid Jamek.
Shopping
KL is a shopper's paradise and visitors are spoilt for choice. As many tourists like to stay within the city, an often overlooked but excellent shopping centre is the Mid Valley Megamall. Getting here is easy as its one train stop from KL Sentral or about 15 minutes' drive from most parts of the city. Megamall is chock-full of department stores and boutiques with many bargains to be had. So if you're into high-end goods then just pop over the walkway to the Gardens Mall across the street. A day at Mid-Valley should just about fulfil any visitors shopping list.
Nightlife
KL may not be known around the world for it's nightlife, but there's actually an incredibly vast amount of options for drinkers. Whether you're into dive bars, huge nightclubs or trendy speakeasies you'll be sure find what you want. One truly unique place you may want to try is a working helipad by daytime and glamorous rooftop bar by night. Heli Lounge sits atop a 34-storey office tower and provides panoramic views of KL's iconic skyline. It is however at the pricier end of the scale as patrons are required to spend a minimum MYR 100 (AUD 33) in order to access to rooftop. A night here though will leave you with some incredible memories – and let's face it – some pretty cool photos!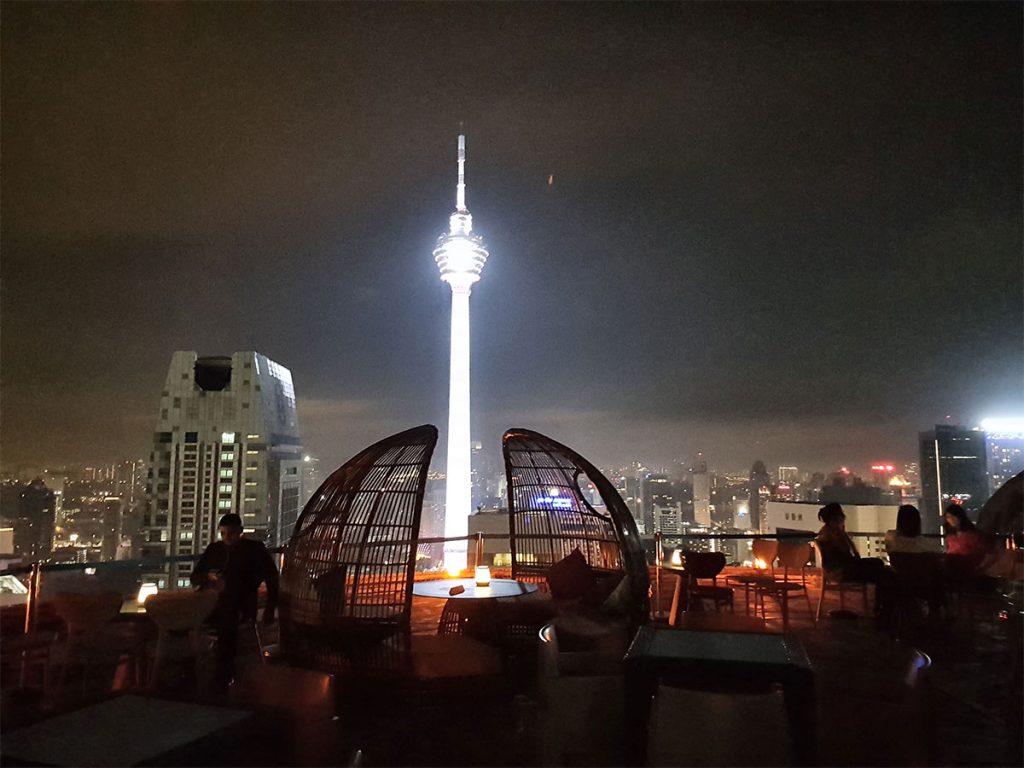 Next time you're looking for somewhere new or wondering whether to take a stopover on a Malaysia connection, I highly recommend you check the city out. A trip to KL can be anything you want it to be. Whether you like to be immersed in an exotic culture or be ensconced in the lap of luxury, the city will provide.
Editor's note: 1 Malaysian Ringgit (MYR) = AUD 0.33 or USD 0.25 at time of publication