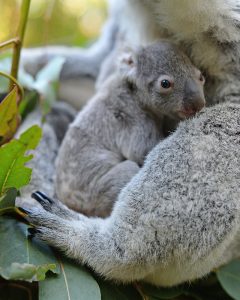 Koalas are unmistakably Australian, and a must-see for all visitors. If you thought they were the height of cuteness, be prepared to re-examine your perceptions when you see their babies!
Making his first public appearance soon at Australia Zoo is Macadamia, the koala joey. He's only a few months old, but he's stealing hearts with his impossible cuteness. When born, a koala joey weighs only half a gram and is the size of a kidney bean. Joeys stay attached to their mother's teat for around 13 weeks, open their eyes at 22 weeks and gain teeth at 24 weeks. At 12 months, Macadamia should be a fully independent koala.
If you thought the name was nutty…
Fittingly, this little joey is named after the macadamia nut, which is native to Australia. It evolved on the north-east coast of the country more than 60 million years ago, growing naturally in the Australian rainforest. Macadamias nuts are lovable too – their smooth and buttery flavour is world-renowned.
Australia might be one of the world's biggest exporters of macadamias, but to see Macadamia the koala you'll have to visit Australia Zoo. Keep your eyes peeled for Macadamia and the 11 other joeys as they emerge from their pouches this season.