Planning for a holiday in 2018? Grab some of the free seats on offer now, in AirAsia's latest Free Seats promotion. This time round, the free seats are on offer between 5th June (0001h GMT +8) and 11th June 2017 (2400h GMT +8) for travel between 15th January and 28th August 2018.
Free seats on offer – the choices
Of course, there are some conditions.
[lists style="attention" color="#1e73be"]
The seats probably won't be available in peak periods – that means over school and public holidays.
There'll be a limit on the number for each flight, so you'll need to plan and get in quickly to get what you want.
You do still have to pay the taxes and other add-ons. The MYR '0' refers to the base fare only.
[/lists]
Domestic and short range travellers will be able to find some good MYR 0 deals out of Malaysian airports.
[lists style="attention" color="#1e73be"]
Kuala Lumpur to Johor Bahru, Penang, and Surat Thani
Penang to Langkawi and Singapore
Johor Bahru to Terengganu
[/lists]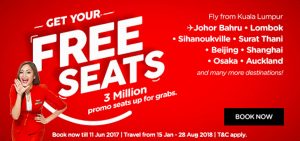 If you'd like to travel further afield, or fly in to Malaysia to enjoy some of the above free seats on offer, fares start from MYR 199 base fare. You need to add the applicable taxes, which vary from country to country.
Kuala Lumpur to Perth or Chongqing head this list and if you'd like to fly Premium Flatbed, these fares start at MYR 899.
Fly Premium Flatbed from Kuala Lumpur to Beijing, Shanghai, Osaka, Busan, Auckland, Gold Coast and others on the AirAsia X network. Premium Flatbed and Premium Flex tickets now include travel insurance for all direct flights departing from Malaysia and Thailand.
Premium tickets also include your meal, baggage allowance and complimentary flight changes. You'll have baggage delay coverage, One Hour On Time Guarantee and other benefits, including complimentary Lounge access in KLIA2.
Get in Early!
AirAsia BIG Members and BIG Prepaid MasterCard members enjoy priority access to make bookings on airasia.com, the AirAsia mobile site and the AirAsia mobile app from 4th June 2017 (0001h GMT +8). You can also redeem flights via airasiabig.com.
Others who'll also have early access to the free seats on offer include:
[lists style="attention" color="#1e73be"]
BIG Prepaid cardholders through airasia.com,
AirAsiaGo and AirAsia Expedia on their respective websites
Account holders with Citibank in Malaysia, who will receive an exclusive link from the bank. The first 100 daily bookings with AirAsia-Citi Card will receive a RM50 AirAsia Electronic Gift Voucher (eGV).
[/lists]