Get in quick to grab 50% OFF tickets across the AirAsia network.
Book at airasia.com from 15th May (0001h, GMT +8) to 21st May 2017 (2400h, GMT +8) for travel between 5th September 2017 and 8th February 2018 The 50% OFF offer is available for bookings made with the AirAsia mobile app. Download the app for iPhones and Android.
The offer also extends to the 'Pick A Seat' option which allows you to choose your preferred seat.
Choices available include:
[lists style="thumbs-up" color="#1e73be"]
your preference for a window or aisle seat
a seat in the Quiet Zone
a Hot Seat for priority boarding and extra legroom
or keeping your travel party together
[/lists]
If you want to try a Premium Flatbed seat, now is your chance to select one for 50% OFF. This option includes a 40kg baggage allowance, meals and your blanket etc. If you're flying out of Kuala Lumpur, you also have complimentary access to the AirAsia Premium Red Lounge in KLIA2.
50% OFF – the conditions
There are always some conditions so the number of seats available for the promotion is limited. They may not be available on all flights during public holidays, school breaks and weekends.
The Pick A Seat promotion is only available during your initial flight booking. You can't get the discount if you do it later through 'Manage My Booking'.
Where should I go?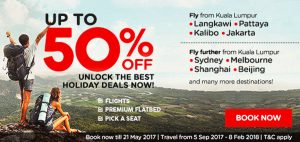 With AirAsia set to start flying to Hawaii from June 2017, this may be a chance to pick you a special fare for your dream vacation. With over a hundred and twenty destinations across the Asia Pacific, the Middle East and the US, you're spoilt for choice.
Why not visit some of these exciting destinations such as Langkawi, Singapore, Pattaya, Boracay, Hanoi, Shantou, Jakarta, Shenzhen, Macao, Luang Prabang, or another new destination, Bhubaneswar.
If you'd like travel further, destinations such as AirAsia X flights to Sydney, Melbourne, Shanghai, Beijing, Maldives are also available.