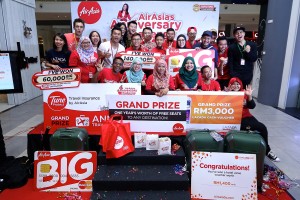 Time flies and so has Air Asia – for 14 years now. To celebrate, the airline ran a 14th year anniversary celebration at gateway@klia2, their main hub, on 9th January 2016.
As part of the celebration, 14 contestants, selected from hopefuls who submitted their entries at the end of December, battled it out over a range of activities to win some pretty impressive prizes.
And the winner is……
At the end of the day, Douglas Yip flew home to Alor Star with one year's worth of free seats to any destinations operated by AirAsia and AirAsia X, one year's Tune Protect Travel Insurance by AirAsia, 140,000 BIG Points, RM3,000 Lazada shopping cash voucher and also RM1,400 AirAsiaGo hotel cash voucher.
….The AirAsia Anniversary Challenge is a fun way for us to thank our guests for their support throughout the years. They will be able to experience the various innovative products and services which we have introduced over the years during the challenge, and we hope they will enjoy themselves apart from standing the chance to win a year's worth of free seats with AirAsia. We would like to thank all of our partners and sponsors for celebrating our 14th anniversary with us. AirAsia will continue to deliver our promise to enable more people to fly, as well as provide further value for our guests through new and innovative ways to enhance their travelling experience. Head of Commercial for AirAsia Berhad, Spencer Lee
With the Year of the Monkey beginning in early February, AirAsia will be offering special surprises each week in the lead up to Chinese New Year including special fare offers, as well as  AirAsia BIG Duty Free offers from USD$8, 888,888 AirAsia BIG Points giveaways and other surprises for flight tickets purchased by 15th February 2016.
The AirAsia Anniversary Challenge was backed by MasterCard and Tune Protect, with support from AirAsia BIG Loyalty Programme, AirAsiaGo, Tune Hotels, Tune Talk and Lazada Malaysia.