foodfooIf you're a foodie who likes to save on your airfare, but still want to enjoy a decent meal, AirAsia is introducing something special for those who enjoy spicy food.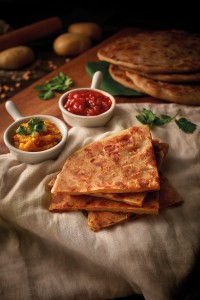 Joining the lineup on the menu will be one based on the Winning Recipe from the AirAsia Challenge on MasterChef Asia – The TV Series. Stuffed Paratha with Dhal and Tomato Chutney is the winning recipe by MasterChef Asia's Indian contestant, Priya Barve during the special AirAsia challenge where contestants were asked to prepare their favourite meal discovered on their travels.
Served hot and fresh, the savoury Stuffed Paratha with Dhal and Tomato Chutney will be available for on-board purchase for RM15 on select AirAsia (AK), AirAsia X (D7), Thai AirAsia (FD), Indonesia AirAsia (QZ), Philippines AirAsia (PQ), and AirAsia India (I5) flights with immediate effect.
Introducing the  addition to the new in-flight menu Santan, AirAsia Group Head of Inflight Ancillary, Ramani Balan said the airline is thrilled to have a winning recipe dish from the AirAsia Challenge on MasterChef Asia – The TV Series in their selection of hot meals on-board their flights. He added that "Flying is no longer just about getting from one point to another, it is an experience in itself and we hope this introduction makes our guests' experience that much more special."
In addition to the Stuffed Paratha, other items available for on-board purchase on AirAsia flights are Shepherd's Pie, specially for the Christmas season as well as Thai Basil Chicken with rice & Javanese Ayam Penyet with rice; while new pre-booked meals are Tomato Rice with Ayam Percik, Nasi Dagang with Chicken Curry and Bukhara Chicken Briyani.
AirAsia X has also included Roast Chicken with Cream Sauce as part of their Christmas offering, as well as Breakfast Frittata & Japanese Chicken Curry with Rice. AirAsia X pre-booked meals are Mac and Cheese with Chicken Meatballs & Kamal's Mee Goreng Mamak to its inflight meals menu.
To ensure you get the meal you want, AirAsia encourages guests to pre-book their preferred hot meals online. You'll enjoy substantial savings and have access to a wider variety of hot meals compared to purchasing on board, with a guarantee that your preferred meal is available.
MasterChef Asia airs on Lifetime Asia, every Thursdays 9pm & 11pm (SIN/HK) on Astro, Channel 709 & Astro On-the Go.