These days people are often making the comparison that it's cheaper to get from the east coast of Australia to New Zealand than it is to get to Perth. Or the comparison could be made that it's often cheaper to get to South East Asia than it is to get to New Zealand. In any case, what is the most economical and enjoyable way to get across the Tasman? Firstly it depends of course where you're going (North or South Island), but if you're Auckland-bound I believe I've found the best way.
It all started when I scored a great deal on Jetstar from Gold Coast to Auckland. AUD 149 one-way for a flight departing at 6.50 PM on a Friday night, arriving just after midnight. I was happy with this option as I had a connecting regional Air New Zealand link flight a few hours later that morning. To my dismay, Jetstar subsequently cancelled all Friday services between the Gold Coast and Auckland; as this was a weekend only trip I was back to square one. As a resident of Brisbane I realised it might be more convenient for me to fly from Brisbane despite forfeiting my very cheap Jetstar fare.
Luckily for me, on October 2nd 2013 Emirates launched a daily A380 from Brisbane to Auckland. Emirates have previously operated this route using 777-300ERs as a tag-on leg from Dubai to Brisbane. With many seats needing to be filled, it is often a great way to pick up a cheap fare. My flight was no exception. I purchased a ticket at the very reasonable price of AUD 230 via the Qantas website (thanks to the new Qantas-Emirates partnership). The extra benefit for me was the earning of Qantas Frequent Flyer miles, as I was booking this flight using the QF codeshare.  Furthermore, the flight schedule consisted of a pleasant 8:25 AM departure, with arrival into Auckland at 2:35 PM.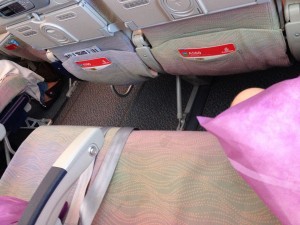 Upon boarding the Emirates A380, I immediately appreciated the spaciouness and warm colours of the interior. I also noticed that there were many empty seats in the cabin. I sat in window seat 83K towards the rear of the lower deck. Immediately after take off, the friendly couple seated beside me opted to move to a vacant 4-seat middle row and stretch out, leaving me with three seats to myself.
About an hour into the flight, breakfast was served. This was the most substantial breakfast I've ever been served in Economy class of any airline. The meal comprised an egg frittata, mushrooms, baked beans, a croissant, a poppyseed muffin, fruit and orange juice. The food tasted fresh and satisfying.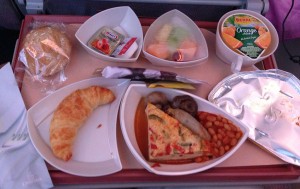 The Emirates A380 of course includes a comprehensive seat-back in flight entertainment system (termed ICE by Emirates) with plenty of American and worldwide content. Some time after breakfast service the crew came by offering any further refreshments. Thanks to the 3 hour time difference in Auckland I felt justified indulging in a vodka soda which of course was still complimentary.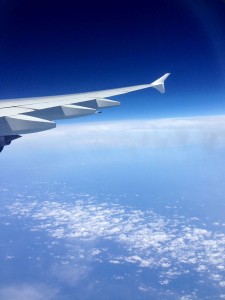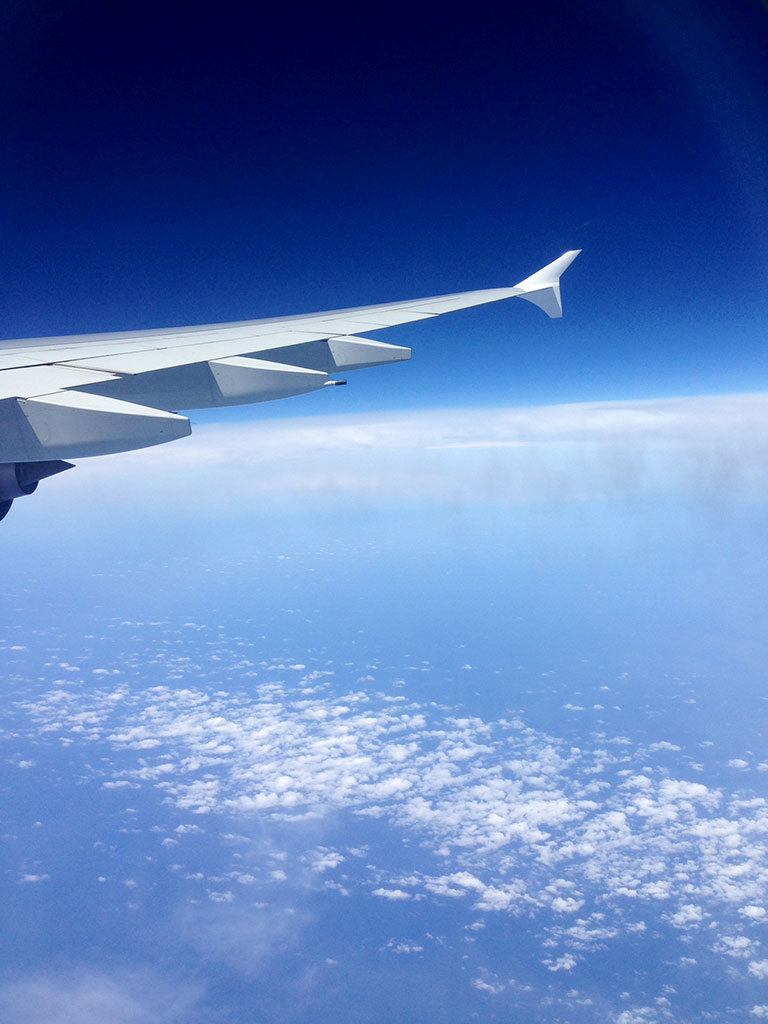 After a quick 3-hour flight, we began our descent into Auckland. A window seat on the flight is recommended as clear days will afford you beautiful views of Auckland's lush green landscapes and sparkling aquamarine-coloured bays.
Navigating Auckland International Airport was relatively easy, and whilst a high frequency airport bus is available (from NZD 16 one-way) I opted for a rental car to see more of the 'city of sails'.
The advantages of the Emirates Brisbane-Auckland A380 flight include;
pleasant daytime flying with easy departure and arrival times.
full service (baggage, food, refreshments, entertainment) at competitive fare rates
space!
comfortable and usually quiet A380 cabin.
The good news is that a similar Emirates A380 service is offered ex-Sydney and Melbourne at similar flight times.
Whilst I'm always the type of economy traveller to check all prices available, for travel to New Zealand I will consider the Emirates A380 as my first choice.