Thanks to low cost air travel, flying internationally is almost as cheap and easy as getting on a bus. But it needn't feel that way. Recently when I was in Kuala Lumpur, Malaysia, I decided to take a little excursion up to Krabi to unwind for a couple of days.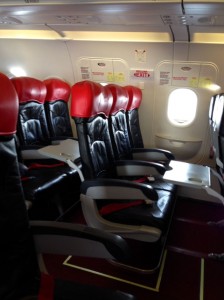 On a Saturday in October 2013 KLIA's LCCT (low cost carrier terminal), was it's usual bustling self when I found myself boarding the early morning the early morning flight to Thailand. Whilst the terminal was extremely busy and not helped by lingering rainy weather, I noticed my flight was very lightly filled. However I had prepared in case of a much busier trip by selecting an exit row seat online a few days prior for the very reasonable fee of MYR 40 (AUD 13).
One thing I've noticed that in comparison to flying in Australia or the United States is that additional extras such as exit row seats and meals are significantly cheaper when travelling in Asia. But still it seemed to have deterred anybody else from paying the premium. As I sat at window seat in row 12 I noticed that I had the entire row on either side of the aisle and all of the seats in the thirteenth row were completely to myself.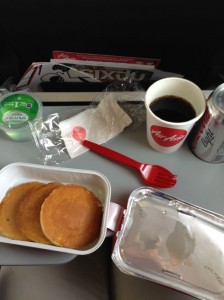 So I settled back as we ascended above rain clouds to a beautiful sunny morning. I had pre-purchased pancakes for breakfast for MYR 9 (AUD 3) which I have to say whilst not mind-blowing, were actually quite tasty. I couldn't help but feel at this point my $16 worth of extras were most enhancing to the experience, but to be fair it would probably be almost as pleasant anywhere else in the plane that morning.
After a short 1 hour and 20 minute hop we touched down in beautiful Krabi, although unfortunately for me it rained for the rest of the weekend. Still best though to start the trip on the right foot.