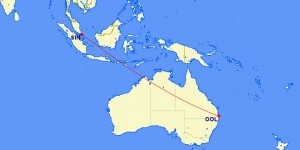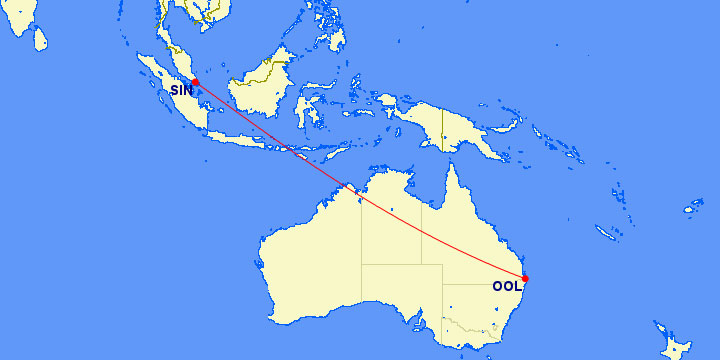 Prior to the recommencement of Garuda Indonesia's Brisbane to Denpasar (Bali) flights in August 2013, Virgin Australia has very much had a monopoly on this route. Whilst great fares will appear from time to time, I found myself looking for cheaper alternatives when planning a Bali vacation back in May 2013. The challenge: finding a deal so good, the savings outweighed the many extra hours in the air. It wasn't too long before I was emailed a promotion on Scoot offering fares from Gold Coast to Singapore for AUD 179 one-way. Returning for AUD 159 and coupled with a cheap onward connection with Jetstar Asia to Bali, the deal was done.
Planning and booking
As I've alluded to in my other reviews, when flying medium to long haul, add-ons are a must. As this was a hand luggage only trip for me, I decided to put the savings on checked baggage into a better seat. For AUD 24 I purchased a 'Super Seat'. Scoot offers 3 tiers of economy seat selection.  Seat allocation at the check in desk is always free, but to specifically select you can choose; Standard from AUD 5 features 31 inch pitch, Super from AUD 21-33 features up to 34 inch pitch, S-t-r-e-t-c-h AUD 59-76 features over 35 inch pitch.
I purchased a premium meal set for AUD 18.99 (AUD 6 more than the standard meal) which included a chicken pie, salad, dessert and water. I found this slightly expensive compared to similar products on Air Asia X. The process of booking and adding my in-flight extras was very easy and Scoot have definitely made the booking end of their website to be clear, logical and transparent right through to the end stages. I think this is particularly important that they offer an easier booking system than Jetstar with whom they compete.
The crew
In terms of cabin crew service, Scoot promises 'Scoot-itude'. I can only deduce that this philosophy is the combination of efficient professional crew with sassy low-cost carrier fun – and this is exactly what you get. From the moment I boarded I immediately noticed the casual nature of the staff yet felt the assurance that I would be looked after well. I even quizzed our lovely flight attendant on exactly which plane we were on, who immediately stated the registration number, which I feel demonstrates that they are an informed and safety conscious crew.
The hardware
The aircraft itself is very comfortable and spacious. The use of the Boeing 777-200 is a first for LCCs in Asia Pacific and definitely brings a new feel to budget travel. When flying the competition you will find yourself on slightly smaller Airbus A330s with Air Asia X or Jetstar and tiny A320s if flying Jetstar or Tiger Ex-Perth or Ex-Darwin. The Scoot seats are a 3-4-3 configuration affording families and groups to be seated closer together, and other travellers more seats to spread across on quieter flights. I was lucky mine was a quiet flight although I do have concerns about personal space and comfort on full flights due to the 10 across configuration. One thing Scoot's Economy seats do lack is a headrest so I would recommend all passengers bring their own neck pillows.
The flight
The flight took a neat 8 hours and conditions were very pleasant. Gold Coast to Singapore is always a day flight from around 9am-3pm (local Singapore time) with schedules varying only slightly throughout the year. The civilised timing ensures passengers have plenty of time to enjoy the rest of the afternoon in Singapore, or to make onward connections as I did to Bali. Like their key competitor, Air Asia X, IFE is not automatically included and one has the choice of BYO entertainment, or pre-loaded tablets which may be booked for a fee prior to flight for SGD 20. You can also BYO device and stream ScootTV content for an access fee of SGD 15, or SGD 16 if purchased on board.
Conclusion
In summary, Scoot's offering is very strong. There are however a few need-to-know aspects which could influence the comfort of one's flights.  As with any LCC, do your homework and explore the website. It's worth noting that Scoot offer a premium cabin called 'Scoot-Biz' and a pay-per-use lounge service in Singapore 'Scoot-in-Style' which are detailed on the scoot website and we will cover in future upgrade guides. As a minimum: I recommend picking a seat (particularly if you are on the taller side), BYO tablet or pre-booking one and always, always bring a neck pillow.