We flew Virgin Australia's direct Hobart-Brisbane flight in mid March which was also the least expensive option. Our flight took off from Hobart a little after the scheduled time of 1:10pm, landing slightly late at just before 3pm.
** Please note: Daylight saving ends in NSW, Victoria, Tasmania, ACT and South Australia on Sunday, 3 April 2016 when clocks go back one hour at 3:00am. Queensland does not observe Daylight saving, so it's necessary to turn your watch back by one hour if travelling from a state that does.
First Impression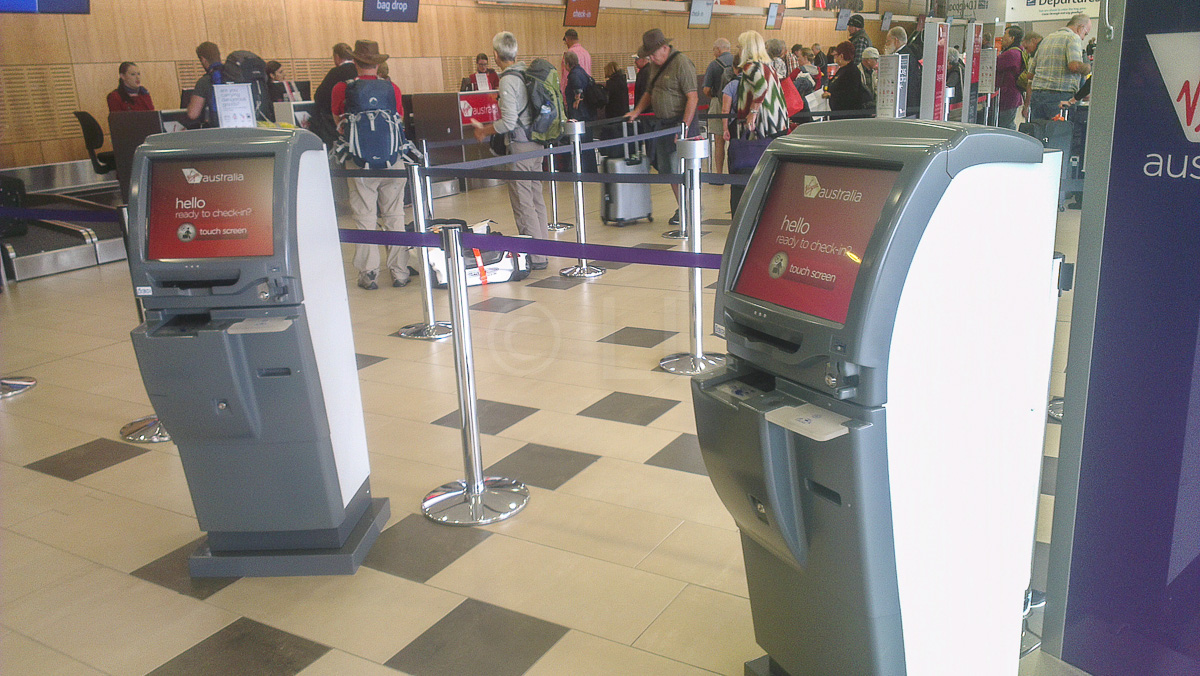 The Boeing 737-800 we flew on went in to service in May 2011, so it's been with the airline about five and a half years, after spending nearly a year with predecessor Virgin Blue.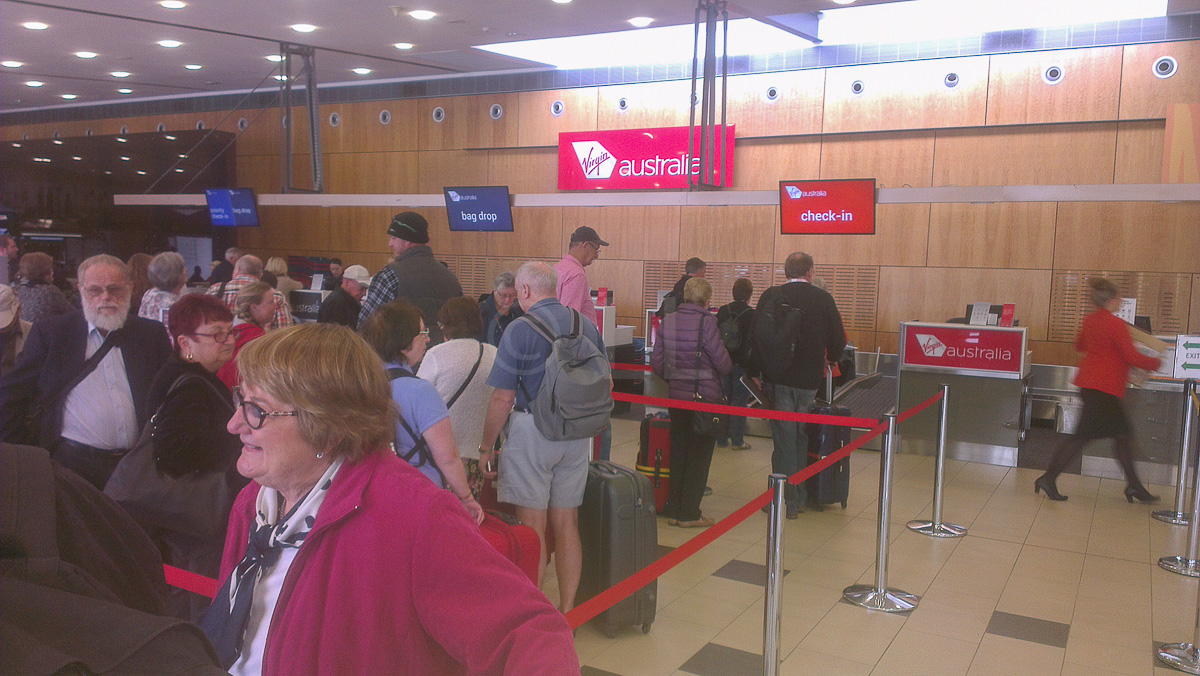 Check-in was very quick and easy using the self-check-in kiosks, taking less than 5 minutes. The line at the check-in counter was quite lengthy, but most opted to stay there rather than save time by using the kiosk. We were able to proceed to the Bag Drop where we realised that our allowance of 23kg per person, is one bag per passenger. As this allowance cannot be combined with another person on the same booking, it resulted in some hasty reorganisation as they are strict about the total.
The Seat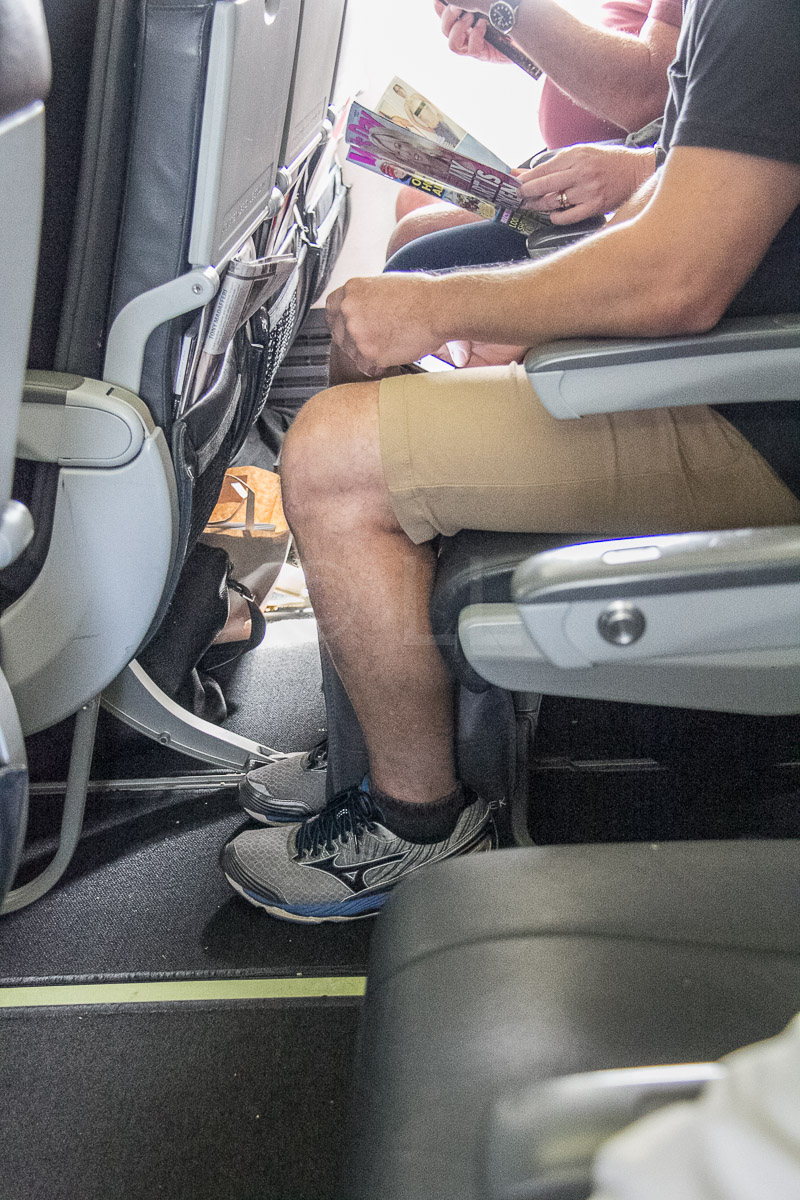 The leather seats on this aircraft are arranged in rows of three either side of a single aisle (two rows of four seats in Business) to give a total capacity of 8 in Business and 168 in economy.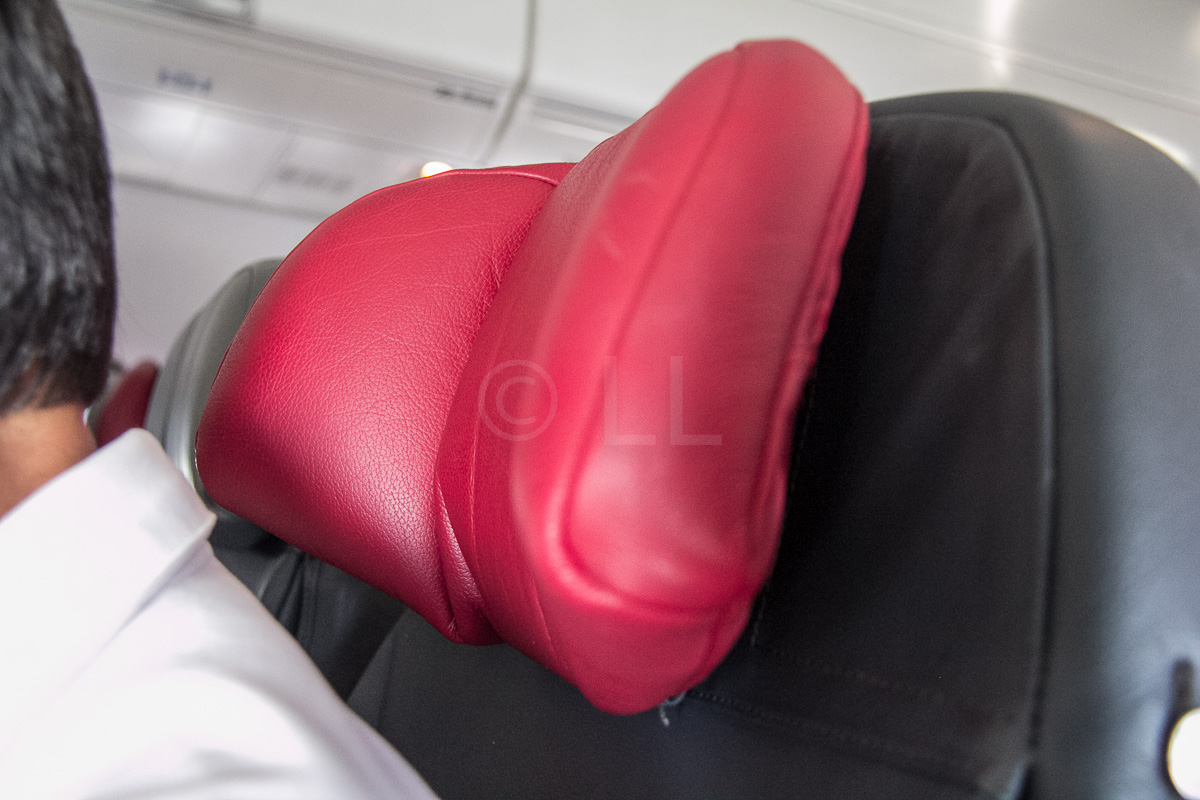 The Economy seats were comfortable and a standard width of 17″. You'll squeeze a bit more room if you're friendly with your neighbour and can raise the armrest, which tucks neatly in between the seats. The pitch of 31″ meant that there was an extra inch of legroom, a definite plus.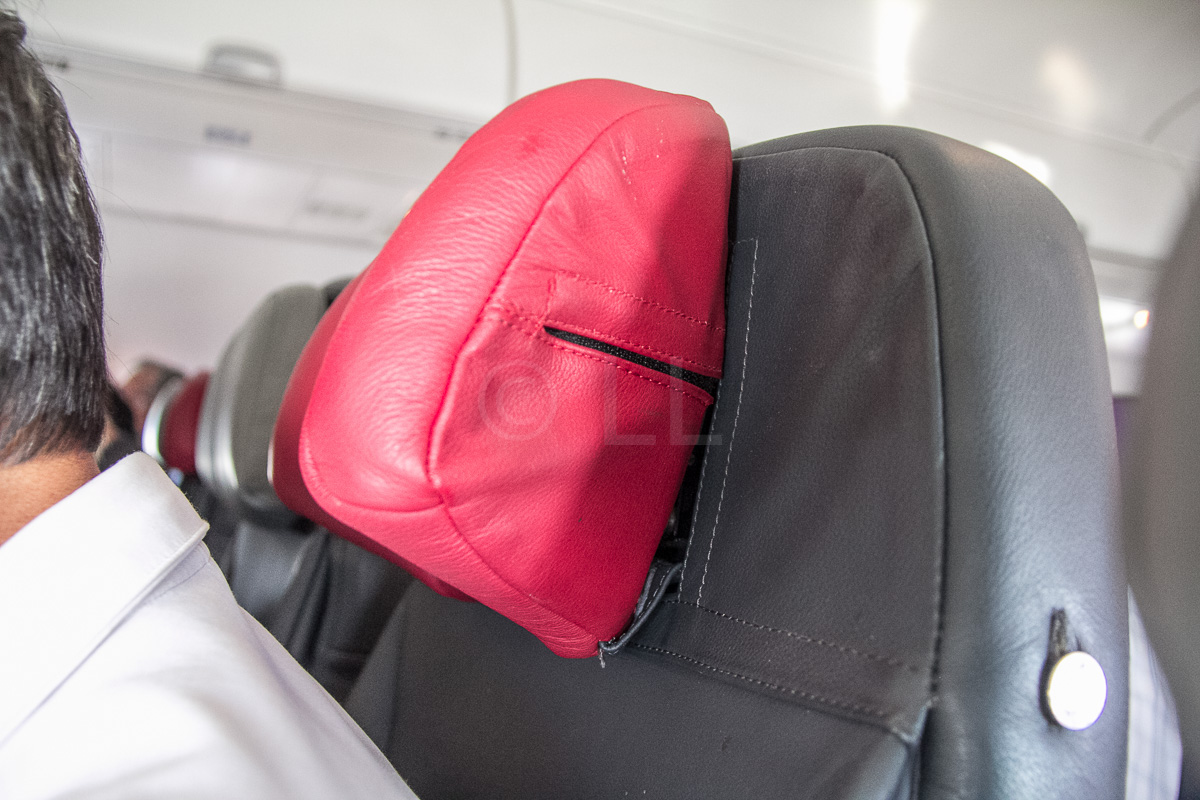 The provision of a coat hook on the side of the seat in front was appreciated especially when flying between two cities with vastly different weather conditions. The seats are fitted with a headrest which is firm and retains its position when adjusted.
Legroom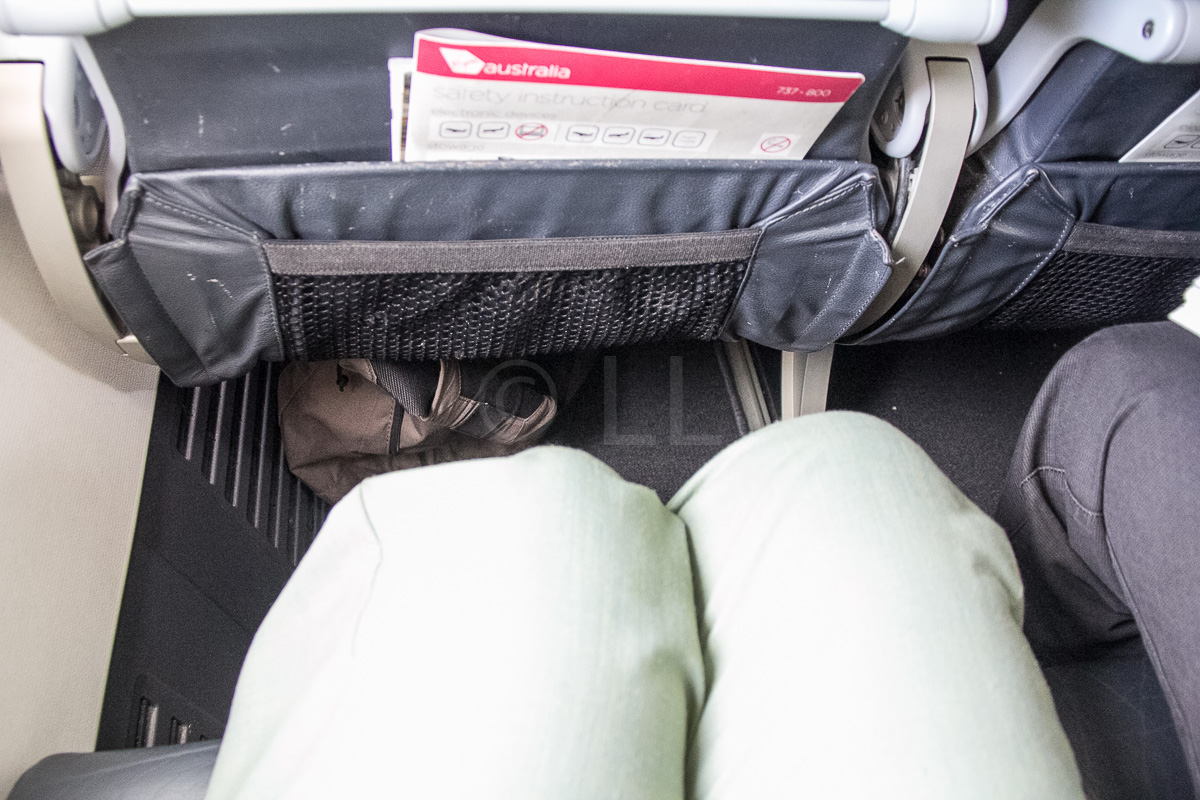 The legroom of 11″ was quite generous, making it easy for the long legged, but also  a little more convenient for window and middle seat passengers to get out. Unfortunately, there is no footrest in front, although this makes it much easier to push a bag under the seat and still have plenty of foot room.
However, there is a 'sort of' footrest underneath your seat which not so long legged people can rest their heals on, which is quite comfortable.
Entertainment
There is no seat back entertainment unit installed in this aircraft. However, In-flight entertainment is available on all Virgin Australia Domestic and Short Haul flights on your own device. You'll need to download the app before you fly from this link which will help you confirm compatibility and give you the latest offerings.
Workspace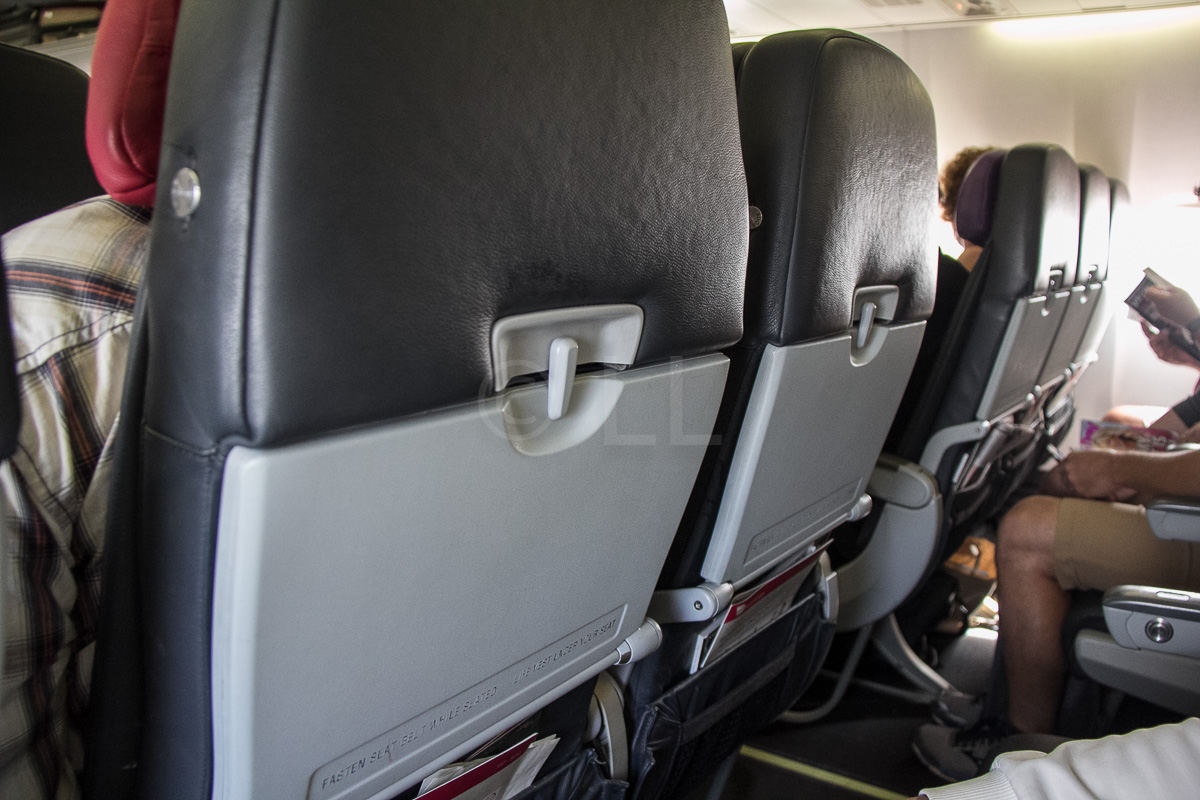 The tray table is a standard single fold down and pull out table, with a depression for a cup. This aircraft has no charging facilities, either usb or socket, on the seat back, armrest or under the seat so you'll need to ensure you have enough juice to last the journey.
Food
We were served a light snack – a pair of egg and lettuce sandwiches with a choice of juice or tea/coffee. There is also a retail menu in the seat pocket as well as online, which has a larger range of snacks and beverages that are available for purchase if you are still hungry. We appreciated the cup of water served about an hour before landing.
The Best Seat
The best seat is quite subjective depending on whether you want and aisle or window seat, want to get off quickly at the end of your flight, or any of a number of other personal reasons. However, it's generally fair to say that certain seats may be more comfortable than others. If you want extra legroom, the first row of Economy (Row 3) or an exit row (Rows 13 & 14 ) offer more space, though the drawback is that you don't have space to push your bags under the seat in front. For Row 3, that means the whole flight and for Rows 13 & 14, it's just during take-off & landing. Additionally Row 13 (and Row 12) may have limited seat-back recline due to the row behind being an Exit Row.
If you're bothered by people waiting for the toilet, you may like to avoid the back row of seating, Row 30). These seats also have limited recline. If you want a window seat, Row 9 has no window, and Rows 10-15 are directly above the wing, which may restrict your view considerably.
A few extra points
There are two sets of toilets at the rear of the Economy cabin. They were clean and well stocked. There is also a sharps disposal unit.
Announcements were clear and easy to understand, particularly those from the flight deck.
Travel by Economy Traveller was self-funded.