A quick day trip between Kuala Lumpur and Singapore gave us the opportunity to check out this popular service which flies out of KLIA2 (the low cost terminal) in Kuala Lumpur and Terminal 1 in Singapore. It was also an opportunity to test the Jetstar Price Beat Guarantee again. They do tell you it's for flights booked by a stated date, but they've been extending the date, and it's currently 2nd August 2016. (please note that your local site may have a different date).
Jetstar Price Beat Guarantee: Easy to do
Before I called the local number on their page, I did my homework, checking the prices of AirAsia, TigerAir, SilkAir and Malindo Air. AirAsia had a price considerably under that offered for the Jetstar flight and all the other conditions were matched, so that's the one I used. The whole process took about 15 minutes and the best things is that you don't have to pay an extra booking fee, so it really does save you quite a bit.
BTW – if you are flying onward rather than into Singapore as your destination, you may be eligible for a S$20 Changi Recommends Voucher which you can use on shopping in selected outlets during your stopover.
First Impressions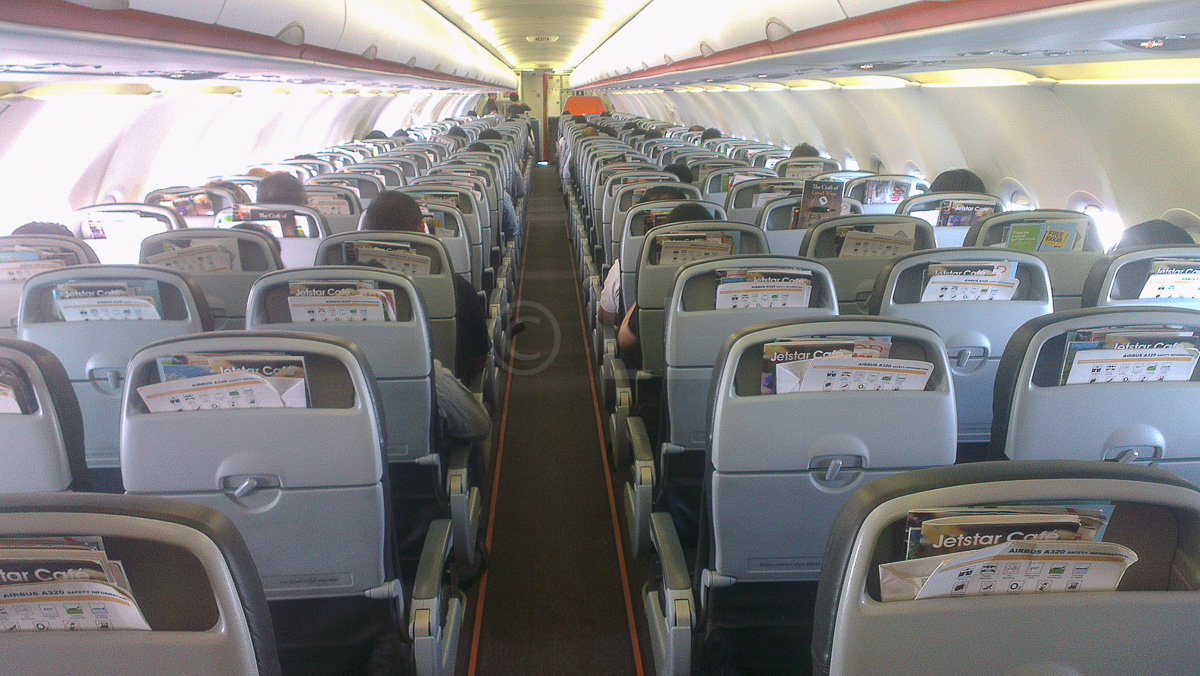 Jetstar remind you a few times before you actually fly, possibly to remind you to book a seat or add baggage or food, both paid-for add-ons. Their reminder to check-in online 48 hrs beforehand was useful and I did both legs together. If you haven't selected a seat, you can do it at this point, but you still have to pay to change it if they assign one you don't like.
The seat
We travelled on two different aircraft during this trip. The aircraft used on the Kuala Lumpur/Singapore leg is a slightly newer plane, about four years old, while the one used for the return journey is an aircraft which has been in service just over five years. The most obviously difference is in the design of seats used.
The seat arrangement in both aircraft uses 180 seats in a full economy arrangement, three seats with a standard width of 18″ arranged either side of a single aisle. I had different measurements for pitch for each aircraft, a little either side of 29″. However, the seat design meant that the newer aircraft with the head level magazine pocket appeared to give a little more room for knees, the trade off being that there was no extra padding at the base of the seat if there's someone with long legs and sharp knees behind you.
Seats in the exit rows 12 and 13 have much better leg room, the downside being that you can't put anything under the seat in front of you during take-off and landing.
There are no footrests, but those with not so long legs may find it comfortable to rest your heels on the bar under your own seat.
The leather seats were comfortable and the armrests tuck neatly out of the way if you know your neighbour and want a little more room. The seats in the older aircraft were slightly offset with the ABC seats slightly forward of the DEF seats.
Workspace
The tray table is a non-fold table with sufficient space for you to work on your laptop or complete immigration forms. There is no power supply, either USB or socket.
Entertainment
There is no entertainment available on this flight, however there is a volume/channel control on your armrest in the older plane, though obviously it's not connected to anything. This also means there's no entertainment unit reducing foot room for passengers in the window seat.
Food
Food doesn't come included with your ticket unless it's included as part of a code share ticket. You can purchase food items (prices in SG$) from the trolley. There's a menu in your seat pocket.
The Best Seat
Seats between Rows 8 and 17 are over the wing so if you like an A or F seat so you can see out the window, look for a seat before or behind these rows. Remember that the tight legroom does make getting in and out a bit more difficult.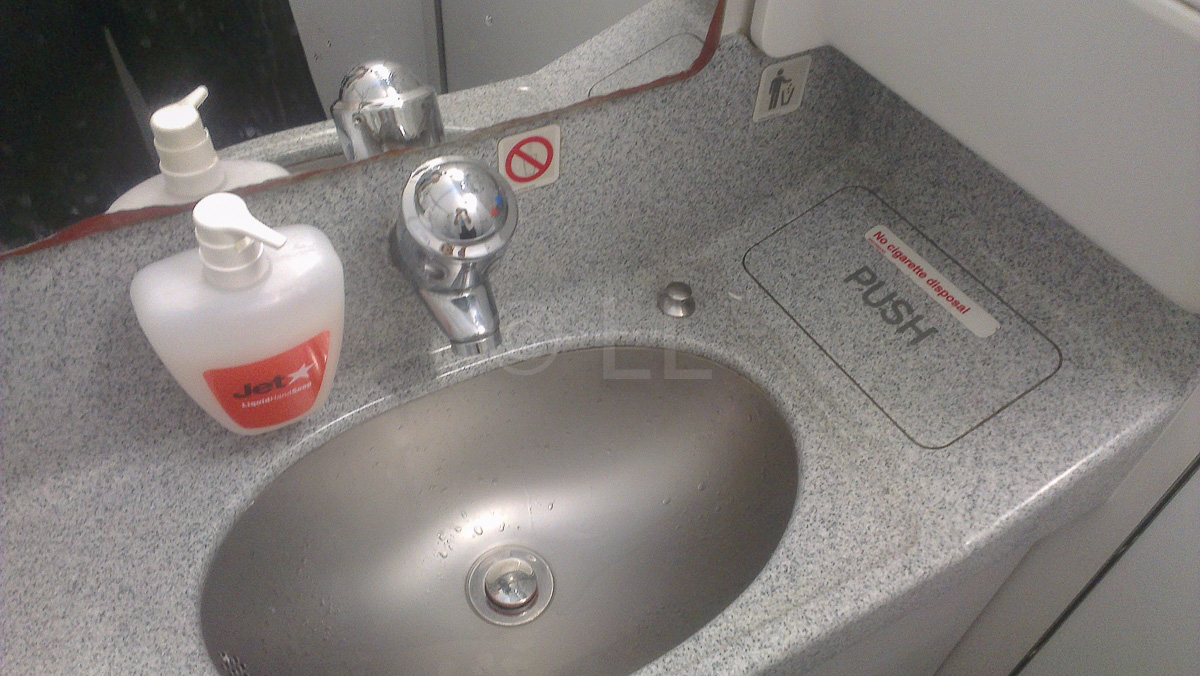 If you're bothered by the proximity to the toilets and galley, avoid the back rows, although on this short flight, there was hardly time for either to be much of an issue. The back row of seats has limited recline.
The flight
Our flight out of Kuala Lumpur pulled back from the gate 15 minutes early, taking off a few minutes before the scheduled departure time. However, although we took the longer route taking off to the north, landing from the south, making the flight time the longer edge of average, we still arrived a good 25 minutes early, pulling up at our assigned gate at 9.27am.
A 'technical issue' affecting the return leg pushed our flight back by 2 hours, although some passengers received an SMS to advise them of the delay. Once airborne, we had the advantage of the shorter route –  taking off to the north and landing straight in to KLIA2 which quickened the trip although the journey was a little rough in places due to turbulence.
There are two washrooms at the rear of the aircraft. They were clean and well equipped with soap and hot/cold water delivered through a 'push on' tap. Hot/cold controls are via a right/left turn of the tap handle.
You can find their In-flight magazine in the seat pocket (it invites you to take it home with you) and a handy card with information about SIM cards available for purchase on board if you need them in Singapore.
Conclusions
We'd use this service again. Booking and all pre-flight communications were efficient and well managed. The flights themselves were short enough to overlook any lack of generous legroom but long enough to flip through the in-flight magazine, which had obviously been taken home (as invited to do) on the return trip. I appreciated the magical appearance of light on my book as we prepared for take-off – the attendant had quietly noted all those reading and switched them on for us, a thoughtful gesture as the switch is up beside the light. The light comes on slowly so I didn't realise this until later.
One of the things this writer really dislikes when flying, is being unable to hear the announcements. This part of both legs receives a big tick. In-flight announcements, both by cabin crew and from the flight deck, were clear and easy to hear. Though they weren't quite delivered in 'Singlish', they were properly read without the flat tones often used on some airlines/flights. Sitting in Row 2 on the return leg, I was able to see our Flight attendant Olivia, as she delivered her announcement, from memory.
To conclude, we found this little gem, courtesy of Jetstar – A new way of delivering the announcements…….
Now, you aren't likely to actually hear this any time soon, it was a special on 1st April 2016 lah.
Travel by Economy Traveller was self-funded.