The Malaysia Airlines B 737-800 aircraft used  on this route could be called their popular workhorse, as it's the most common aircraft in their fleet, with fifty-six of this variant currently on their books..
First Impressions
Although we had earlier checked-in online, we discovered on arrival at the airport that Malaysia Airlines have implemented a common bag drop system, with two immensely long (at that time of day, late afternoon) queues. Having more recently made more use of the low-cost alternative, where bag drop is handled quickly and efficiently, we were not impressed to be in the queue for over half an hour. Possibly because there were only 6 of the 18 stations operating in our Row (B) and a similar number in Row C. The first 7 stations in Row B were blocked off. These have now been revealed to have SITA self bag-drop units in place, though there is no word on when these will be available for traveller use. **TIP – until the self-Bagdrop units are ready – Be Early!
Despite the Bag drop delay, we were at our assigned gate well in advance of the departure time and were wondering why there was nobody else there. As the time approached, we went to check and discovered there had been a last minute, unannounced gate change. As we headed, fast, to the opposite side of the terminal, we heard our names and quite a few others being called for our flight.
On board, we were greeted in a friendly manner, found our seats and settled in. It's a short flight, 55 minutes, so the fact that the flight was quite full wasn't a problem.
The seat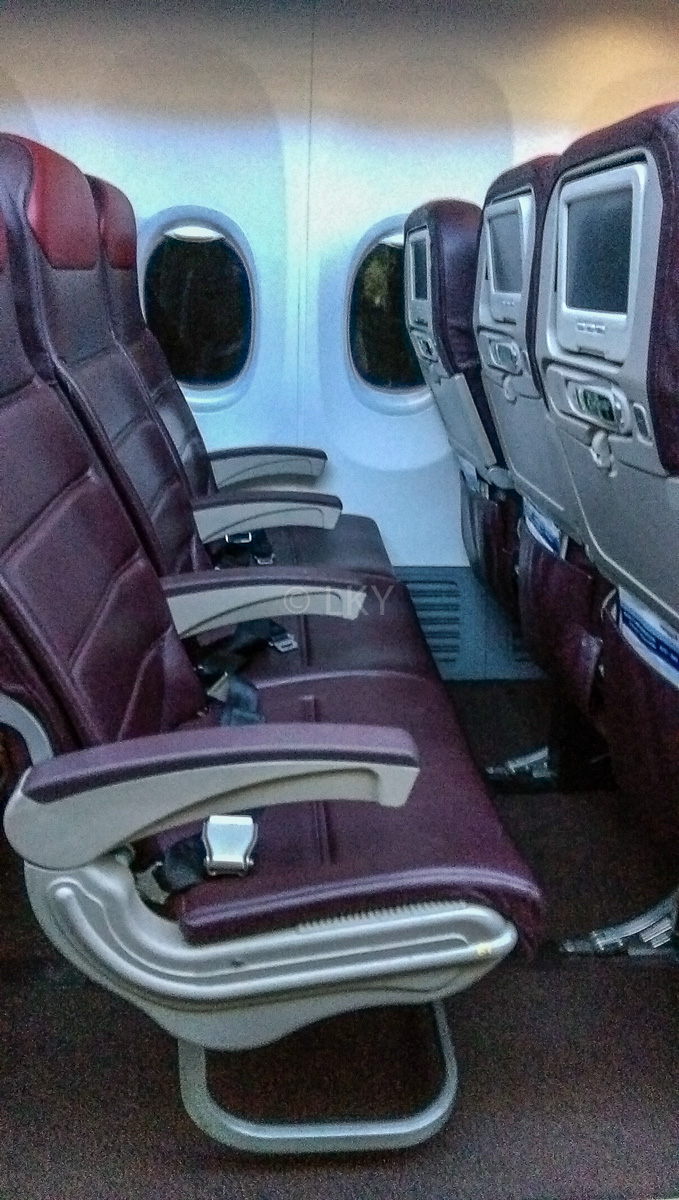 This aircraft is configured with 150 Economy seats arranged three either side of a single aisle with 16 recliner seats in four rows in Business class. My companion and I were seated in 11E and F, in the Economy section. The leather seats are comfortable, although there is no headrest or footrest.
With a seat width of 17″ and a pitch of 30″, it's a standard seat, a little cramped but it's a short flight so not a major problem. The seats recline adequately despite being in front of an exit row, though if you're on a longer flight, you may find it uncomfortable.  The armrests can be raised to tuck into the gap between the seats.
Legroom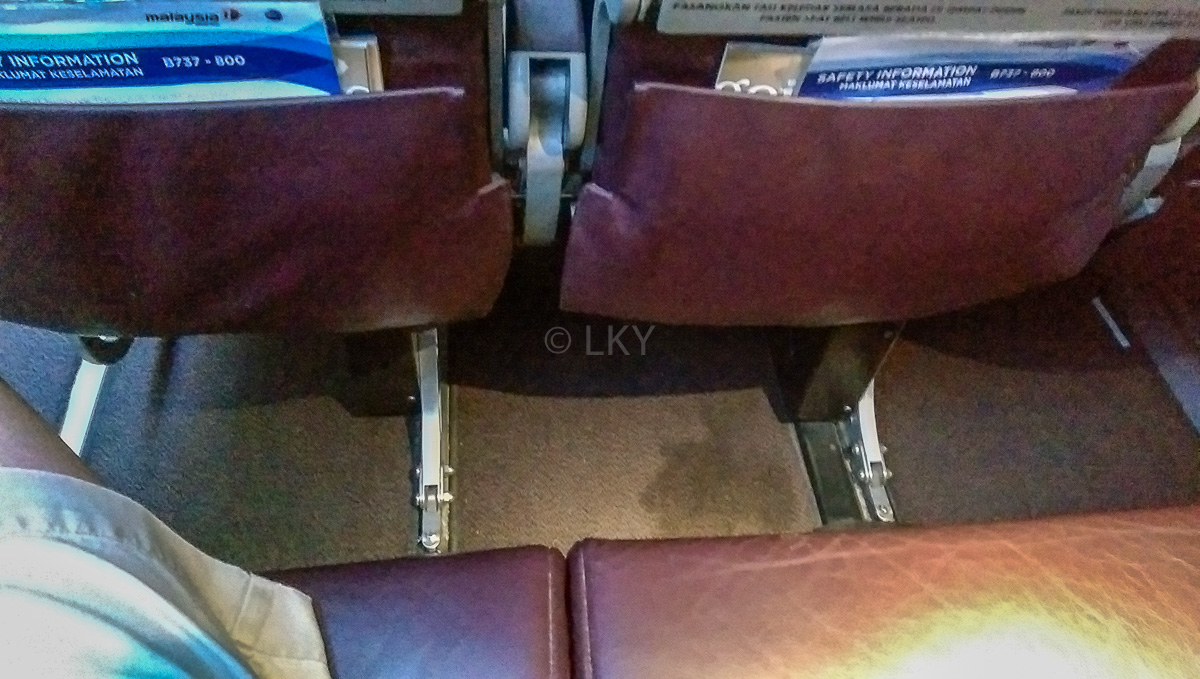 Legroom is a tight, standard 10″ which makes it difficult to climb out if you need to go to the washroom.
There is no footrest, but the space beneath the seat in front is clear for all seats, as the entertainment unit is not placed here, often an issue when it takes up passengers legroom in window seats in some airlines/aircraft.
This extra space is more than enough for a small bag to be pushed completely into the space, of for longer legged passengers to stretch out more easily.  The magazine space is quite tight, enough to fit a mobile phone to charge, or a novel.
Workspace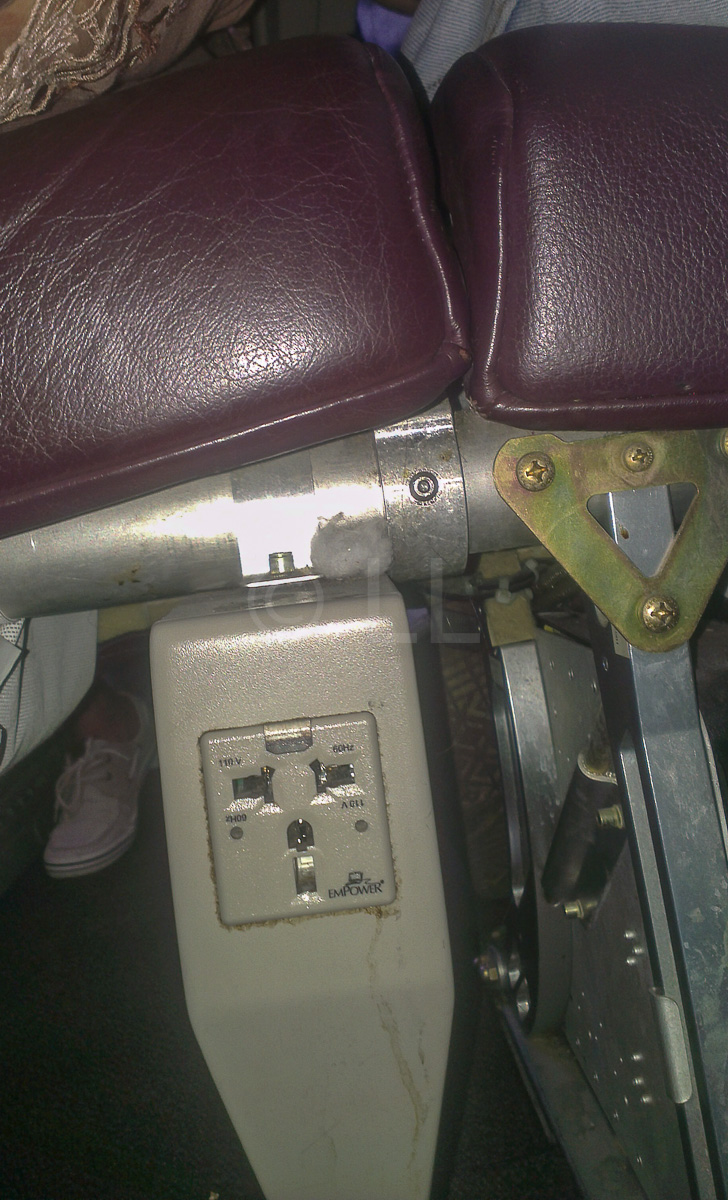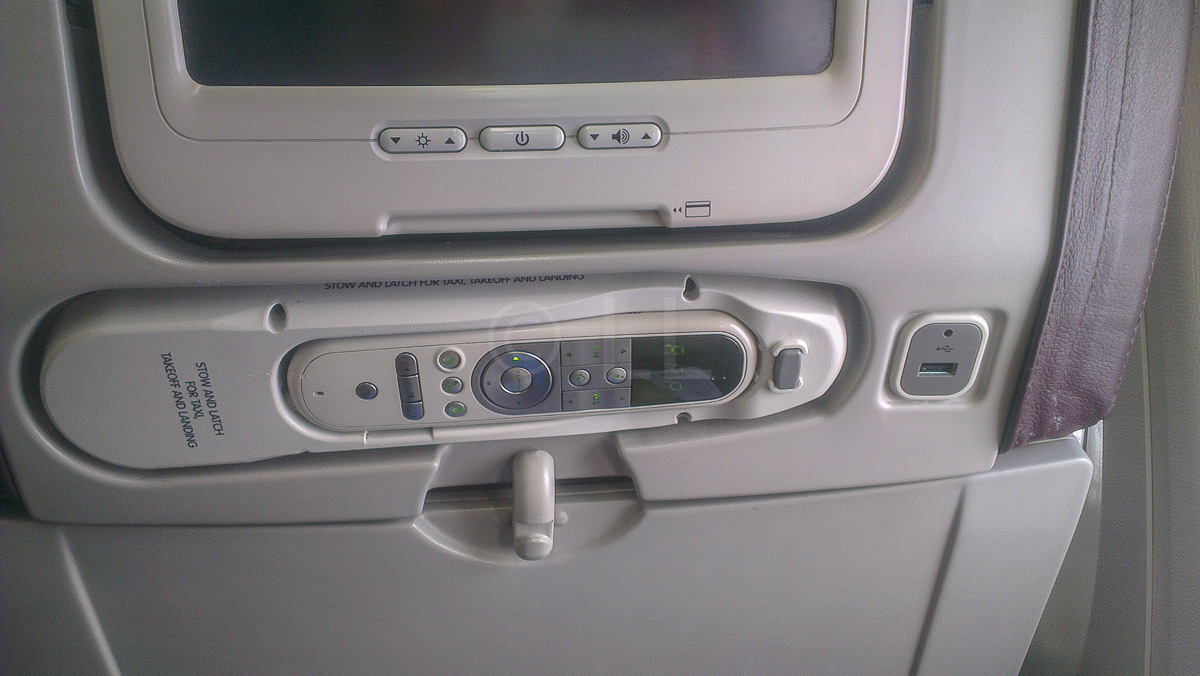 The tray table is a non-fold table which can be pulled closer to the user during meals, or to use as a work space. There is a slight ridge at the edge, but no cup recess.
If you are seated in the front row of the cabin, your tray table is hidden in your armrest, and you will need to connect any charging items to the USB port on the entertainment unit located on the bulkhead wall.
The USB ports for all seats are located on the right side of the entertainment unit handset.  While working on a laptop, the space is adequate and if you are needing an electrical socket, feel around under your seat, it's tucked away there. You can't really see it because the space is so tight, but you can 'feel' your way.
Entertainment
The entertainment available on board is included in your fare, but on a short flight, there's not much point looking for a movie, they don't pass out headphones anyway.
Food
Malaysia Airlines serves a snack on all flights longer than an hour. This sector is barely that, so you'll get a choice of juices and a pack of peanuts.
The Best Seat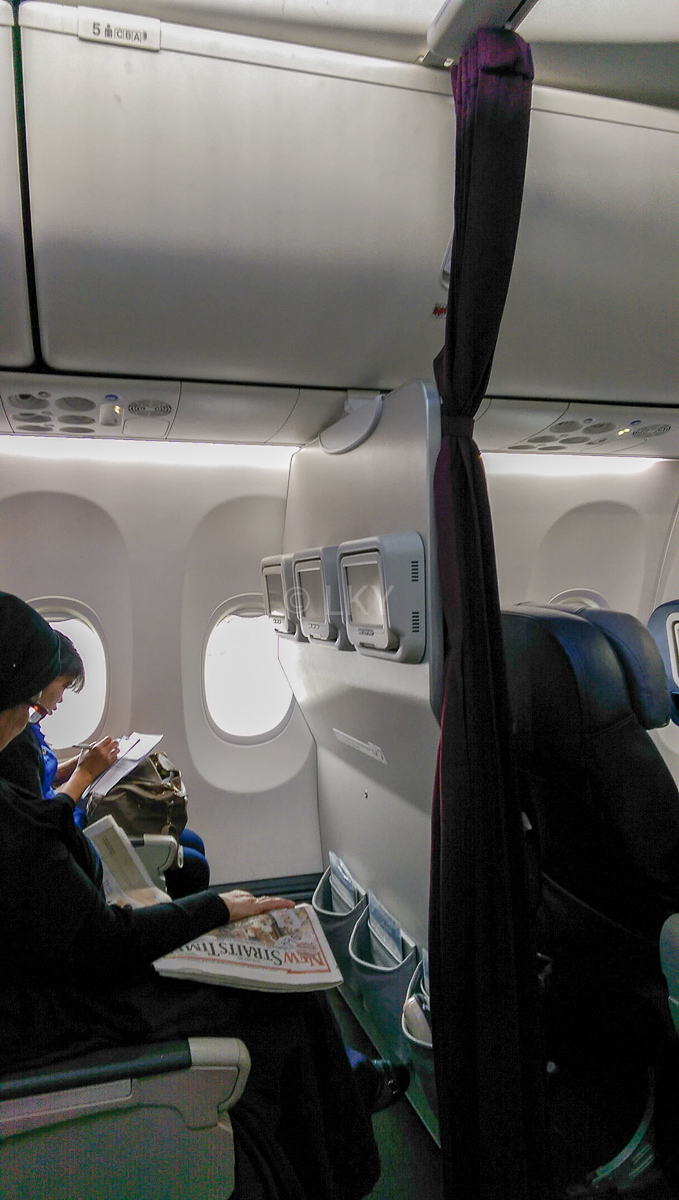 Seats between Rows 8 and 18 are over the wing. If you like an A or F seat so you can see out the window, don't select one in Rows 8 or 9 because these seats have no window. Seats in Row 5-8 are in front of the wing and those in Row 5 have extra legroom. However, you'll need to put your bag overhead as there's no under-seat storage for take-off.
There is only one pair of toilets available in this type of aircraft for Economy passengers, located at the rear of the plane. The galley is also located here. If you are bothered by people queuing to go to the toilet, you may find the rear seats better to avoid.
Conclusions
Generally the flight was satisfactory, the seat was comfortable and the staff responsive and polite. Despite the lack of legroom, my seat was comfortable and I was able to charge my phone from the available USB port. I did appreciate that even though there is no footrest, there is no entertainment unit reducing the space under the seat and I was able to stretch my legs out comfortably.
Travel by Economy Traveller was self-funded.