Singapore low-cost carrier Scoot operates medium haul flights between Singapore and Australia, North Asia, India and the Middle East. The airline has completed a total fleet renewal to brand new Boeing 787 Dreamliners, and the new technology of this aircraft has allowed Scoot to introduce new options to passengers, such as in-seat power, entertainment streamed to personal devices and Wi-Fi connectivity. We've reviewed the airlines premium option Scootbiz with all the benefits and limitations to help you decide whether to pay the extra cost.
Pre-departure benefits
When booking Scoot flights customers will notice 4 ticket options: Fly, Fly+Bag, Fly+Bag+Eat & Scootbiz. Whilst the top tier fare will rarely be an economical choice for families and larger groups, solo and couple travellers may find that if it is on sale, the price difference between economy with all extras added and Scootbiz is not as dramatic. For instance, our flight from Gold Coast to Singapore was purchased on sale at AUD 399.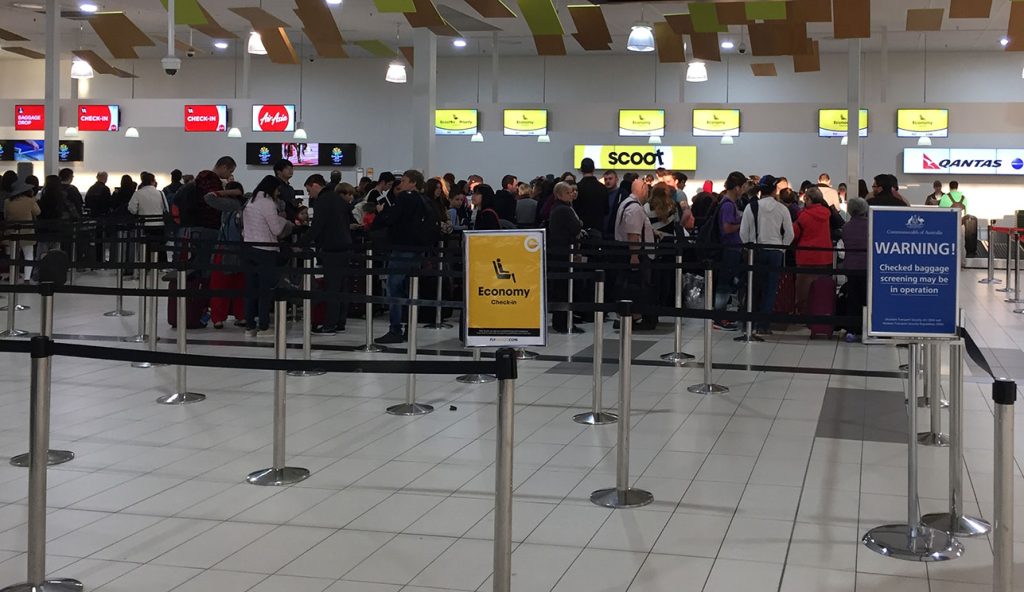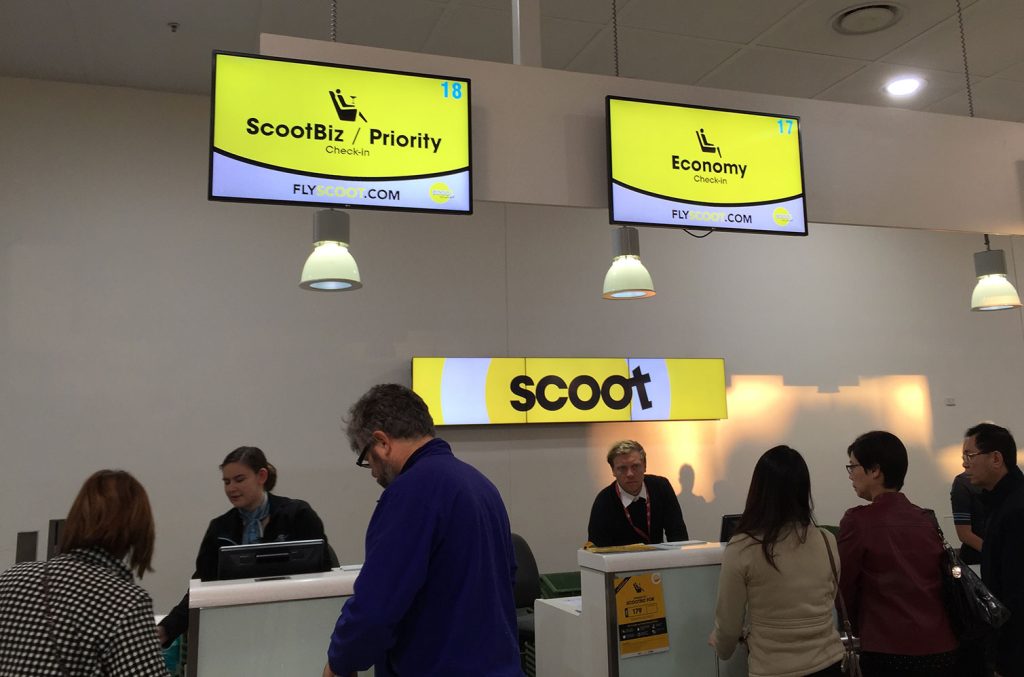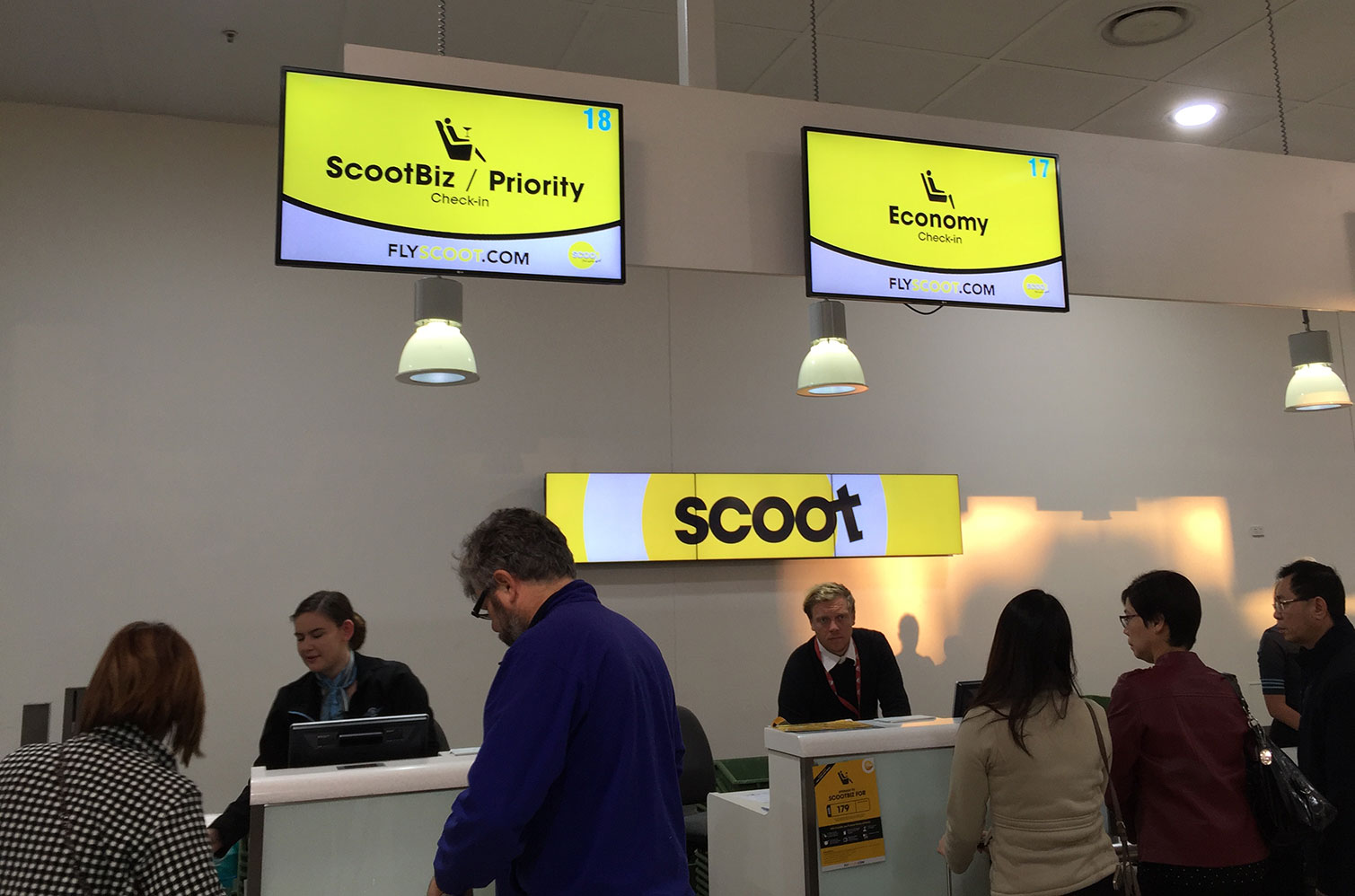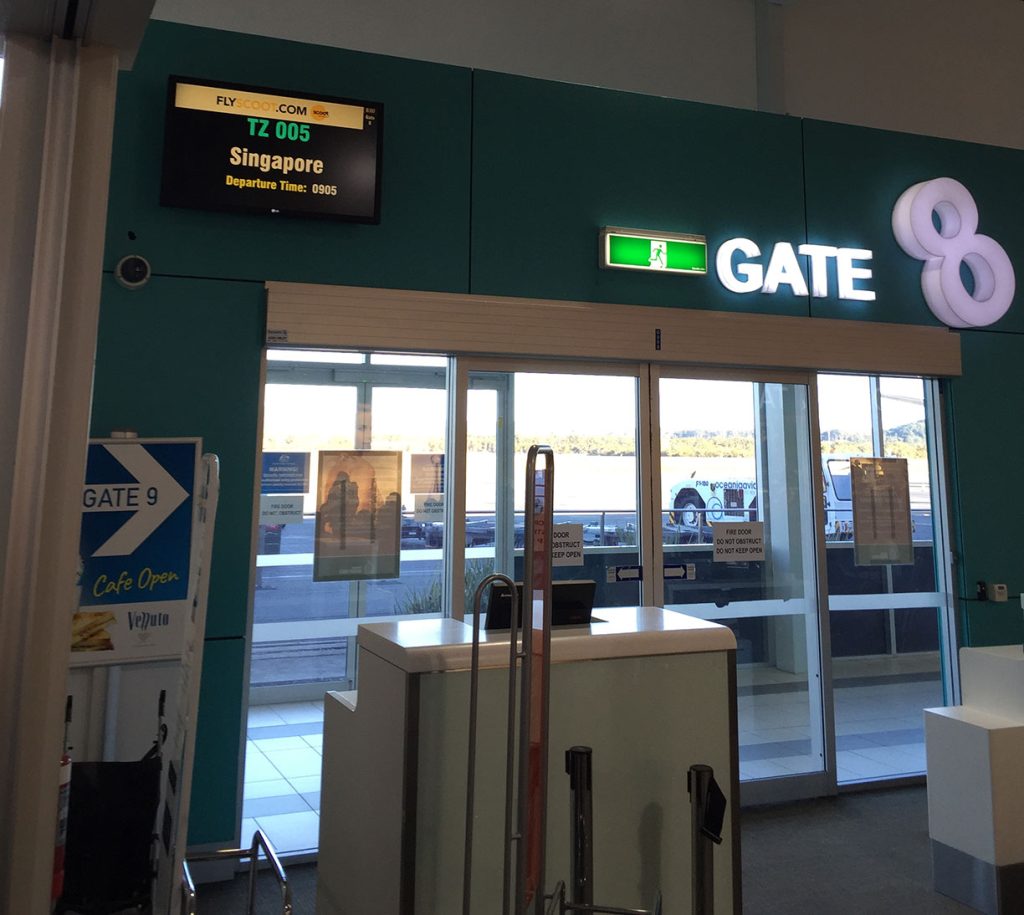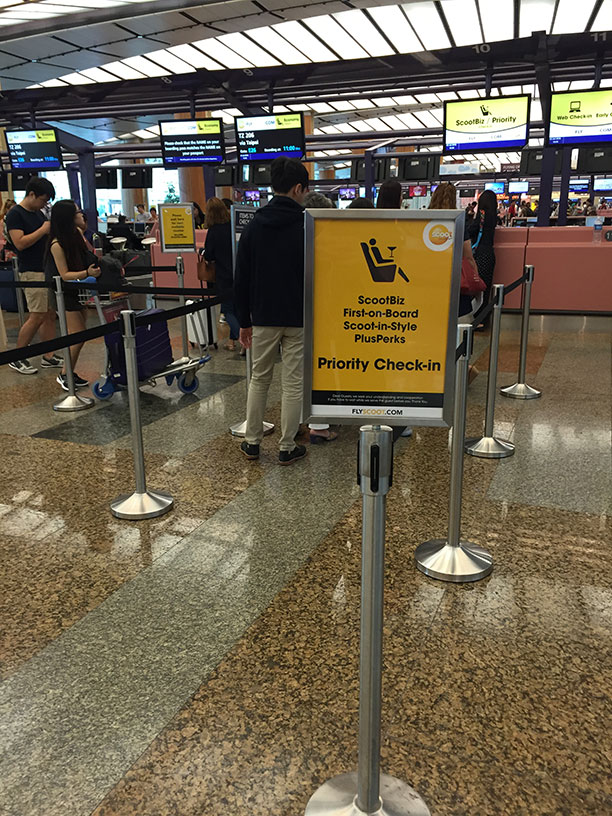 Before even taking off, Scootbiz passengers benefit from the 30kg checked luggage allowance, 15kg carry-on allowance, dedicated check-in counter and priority boarding. The flight to Singapore was during school holidays, an extremely busy period, so the economy queue was very long.
In-flight benefits
Upon boarding, a complimentary water was provided and meal orders and drink preferences were confirmed. The Scootbiz cabin offers large leather seats with adjustable headrests and footrests. The seat is a recliner and not a flatbed. The exclusive cabin has its own lavatory and dedicated crew. The aforementioned features of in-seat power and ScooTV were complimentary (these are at an extra cost in economy). ScooTV offers an International/Asian range of television and movies for adults and children. As it is BYO device anyway, we would recommend that you bring your own media as some may find the entertainment menu a bit limited. Wi-Fi was purchased for an additional USD 21 for a 24 hour package and WiFi packages can be used across connecting flights (time expires 24 hours from first sign-on). Connection speeds were surprisingly strong and consistent for the majority of the flight. This option was an enjoyable novelty, however it is quite an expensive add-on.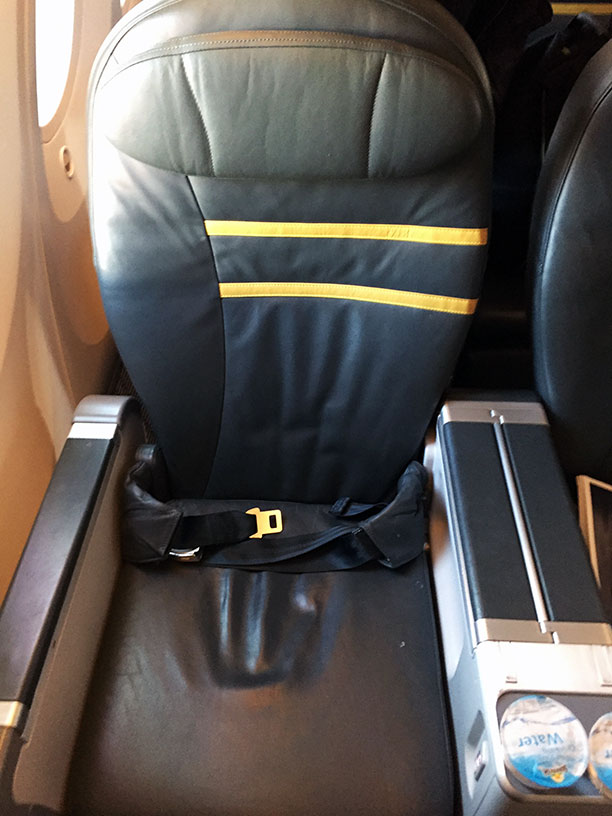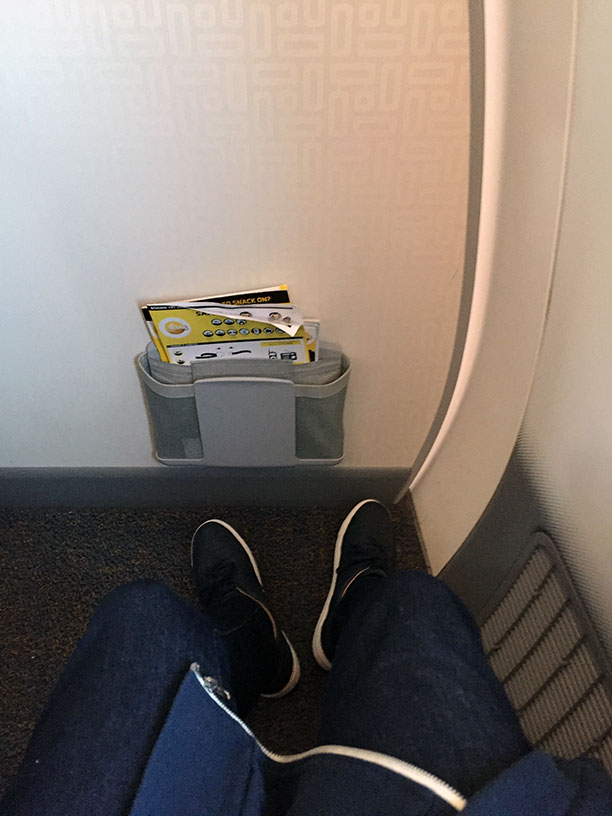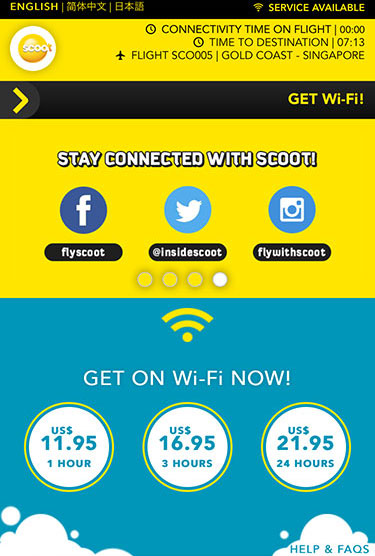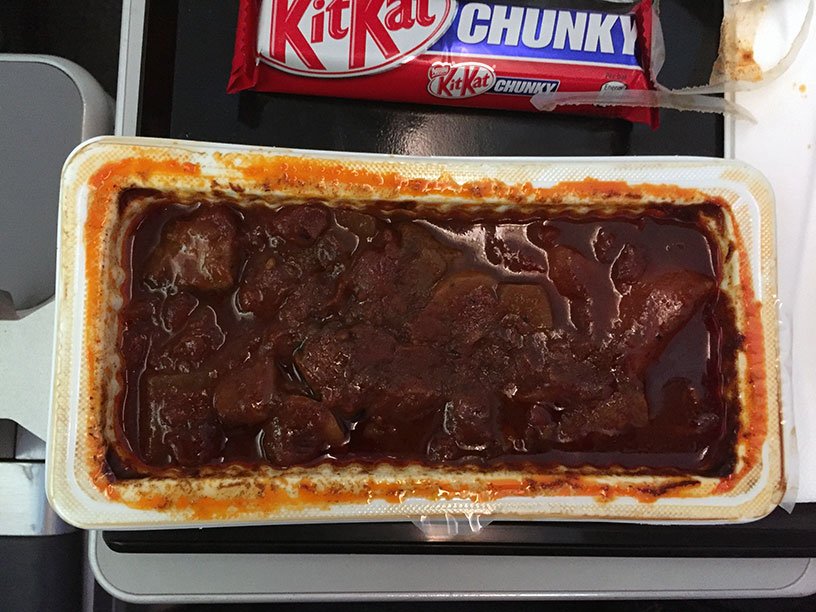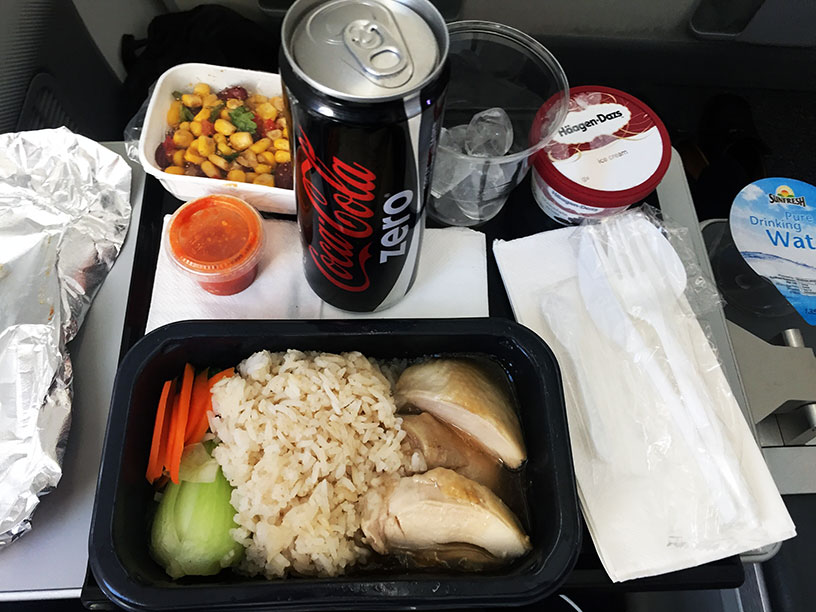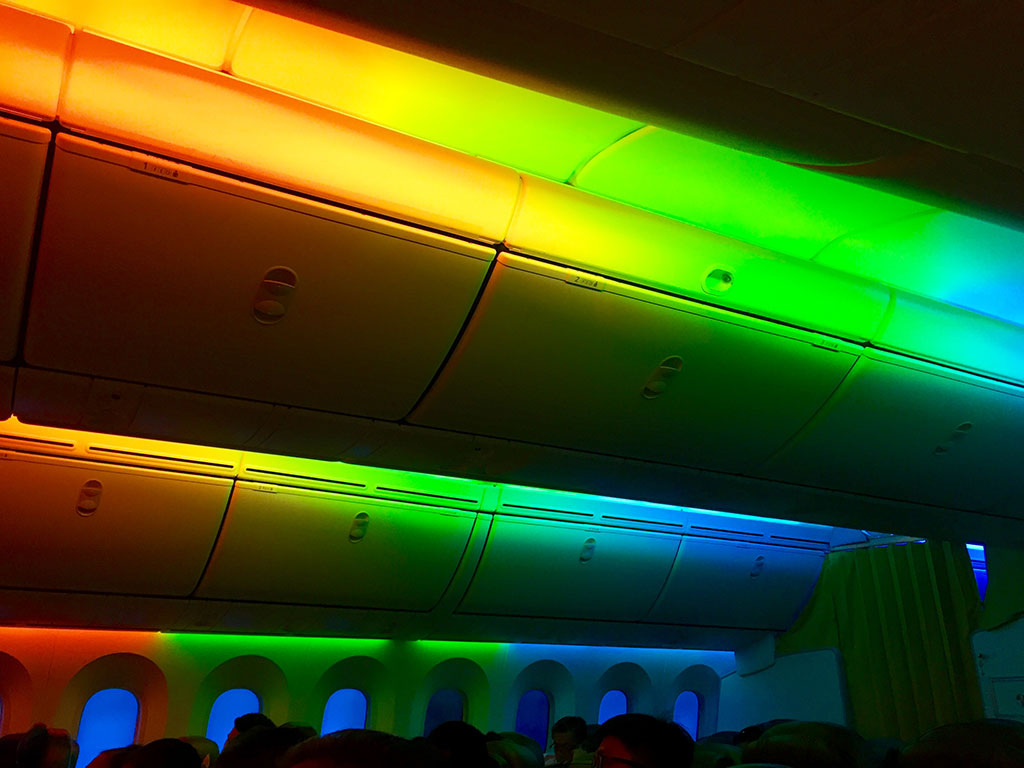 Scootbiz passengers receive a  complimentary meal and choice of 1 drink (including alcohol). The food and beverage options are the same as what can be purchased from the Scoot Cafe menu in economy class. The standard of service provided by the cabin crew, known as 'Scooties', was very pleasant and prompt.
Scootbiz vs the competition
So how does Scootbiz compare to the premium options of its low cost rivals; Jetstar and AirAsia X?
For simplicity, let's look at options between South East Asia and the East Coast of Australia. When upgrading to a premium option it is all quite relative in terms of price. Essentially, you get what you pay for. Scootbiz comes in cheapest at an average fare of AUD 499 ex Gold Coast/Sydney/Melbourne to Singapore. It's not what some travellers would even regard as even premium economy on full service carriers due to a lack of 'premium' food service (e.g. no real cutlery or glassware) or complimentary drinks service. It does however boast a very comfortable seat, personalised service, cabin exclusivity and very new aircraft with complimentary in-seat power and entertainment. One important feature to note is that Scootbiz passengers do not receive any priority with luggage so whilst you may be first off the plane you may find yourself waiting just as long for your bags.
Jetstar Business comes next in terms of price with typical fares of AUD 699 (Business Saver) ex Brisbane/Sydney to Bali. Jetstar Business provides much more of a premium economy feel with business class meals, complimentary drink service and priority baggage. The seat is very similar to Scoot's as it is a recliner, not a flatbed. Air Asia X Premium Flatbed is the highest cost option and typically sells for AUD 999 ex Gold Coast/Sydney/Melbourne to Kuala Lumpur. It offers a similar standard of food and beverage to that of Scootbiz but lacks the technology components of in-seat power and WiFi connectivity. The major selling point is the (angled) flatbed seat, ideal for overnight flights. It also delivers the priority aspect in terms of luggage/check-in/boarding & disembarkation.
Conclusions
Scootbiz is definitely worth the extra money if you are travelling solo or as a couple and you are likely to purchase Fly+Bag+Eat and possibly in-seat power and ScooTV – as these are all complimentary. We believe, however, that it is the best value option of any low cost carrier premium cabin to South East Asia. Whilst we purchased Scootbiz at the booking stage, on check in at Gold Coast airport, Scoot were offering upgrades to Scootbiz at the check-in desk for AUD 179. A tip for getting a great deal on Scootbiz is to book in advance and check out Scoot's weekly Tuesday morning special fares.