Economy Traveller flew economy class on NokScoot from Taipei-Taoyuan International Airport to Bangkok Don Mueang Airport in July 2016. Because South East Asia is a region flush with low-cost carriers, we decided to try out an airline that's emerged as a hybrid of two better-known LCCs.
Who is NokScoot?
NokScoot is a joint venture of two low cost carriers; Singaporean Scoot and Thailand's Nok Air. Based at Bangkok's Don Mueang International Airport, NokScoot provides low cost medium-haul travel to North Asia. NokScoot's fleet consists entirely of Boeing 777-200s, second hand from Scoot's parent company – Singapore Airlines.
Booking Process
As described in previous Scoot reviews, NokScoot uses the add-on system where you can choose whether to add bags, food etc. The selection for this flight was Fly+Bag+Eat. NokScoot offers a range of seat selections such as super & s-t-r-e-t-c-h seats (extra legroom) and Scoot-in-Silence (no children under 12). I chose Scoot-in-Silence for an additional TWD 100 over the standard seat fee. The fare was very reasonable at a total of TWD 3,100 all up.
Getting to the Airport
I arrived at the Taipei-Taoyuan airport 2 hours prior to departure, having travelled from my hotel in central Taipei on the Metro, High Speed Rail and Taoyuan Airport UBus (No.705). Whilst that may sound complicated, the connections were very easy and in total cost TWD 210. Taxis between the airport and city generally cost about TWD 900. Travel time to the airport was approximately 1 hour.
The flight
The flight left on time for its 9.50am departure arriving in Bangkok at 12.30pm. The crew were very friendly, professional and attentive.
Meals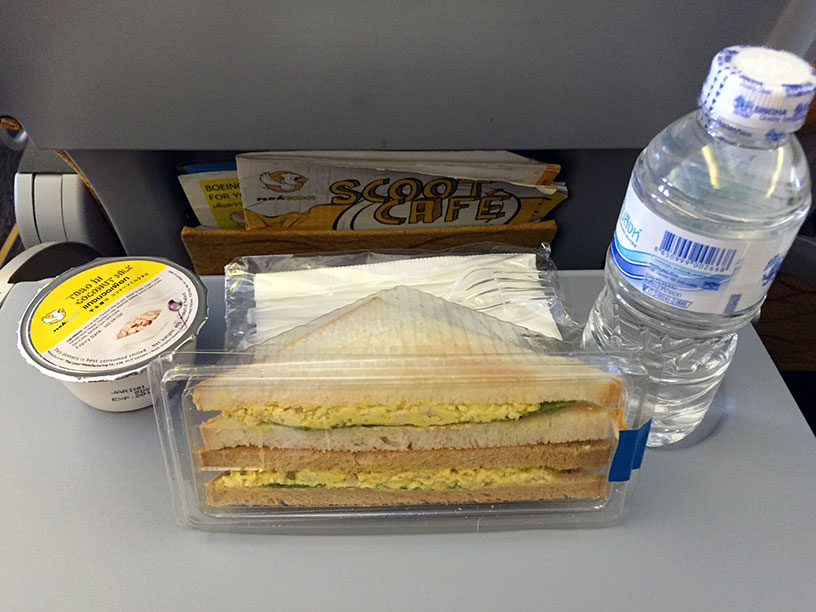 The food service is the standard budget airline offering of pre-ordered or buy on-board meals. As it was a mid morning flight I chose the Chicken Curry Club Sandwich which was perfectly pleasant. Pre-ordered meals come with a bottle of water and a Taro in Coconut milk dessert. The whole combination is rather inexpensive at THB 230.
The Seat
The choice in selecting the 'Scoot-in-Silence' mini-cabin paid off instantly as there were only 10 people seated in our section of 51 seats with the main cabin of economy was largely full. I flew in seat 24D, which is a standard economy class seat. The two seats beside me were vacant.
Entertainment
Entertainment is not offered on NokScoot as there are no seat-back consoles and media streaming is not available, therefore I strongly recommend that you bring your tablet device or a good book.
The Plane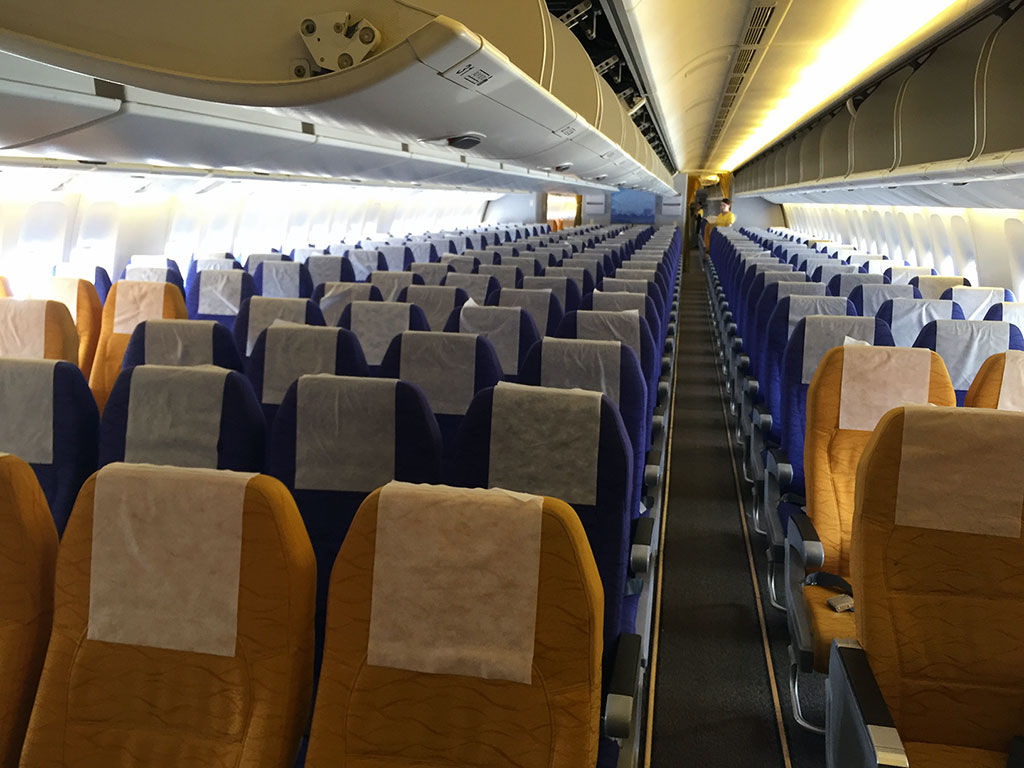 The Boeing 777-200 is a very comfortable jet as it was designed for long haul travel. With a wide open feel, particularly on a flight as empty as this one, I did not feel 'cooped up' as one normally does on international flights. The aircraft does show its age when you visit the lavatory with older style flooring and taps, but these are minor imperfections.
Summary
NokScoot is a good option for getting between Thailand and North Asia, particularly if you are looking for a one-way or point to point fare. I would fly them again for the right price.
Tip: Provided you are not travelling at a peak period, pay the extra for Scoot-In-Silence to increase the chances of an empty seat beside you.
[signoff predefined="Self-funded Travel" icon="icon-info-circled"][/signoff]