We flew with AirAsia X Kuala Lumpur to Gold Coast recently on their Airbus A300-343, registration 9M-XXV. This aircraft is just over two years old, having joined the fleet new in December 2014. The flight took off on time at 8.35pm from Kuala Lumpur's Low Cost terminal, KLIA 2, landing just over half an hour late at the Gold Coast Airport, Coolangatta at 7:18am local time. The longer travel time was most likely because of some heavy weather on the way, not long after take-off, as well as over much of Australia.
The route taken took us down the Straits of Malacca where we moved up quickly to 41,000 feet and tracked via Bali to cross the coast of Australia over the Mitchell River National Park. The sun rose as we crossed the state of Queensland, offering passengers on the K side of the aircraft an excellent aerial view of both the state capital, Brisbane and the Gold Coast as we prepared for landing.
Placing the Booking
After looking at the available pricing on Expedia and finding much the same by going direct to the AirAsia website, we decided to stick with the direct purchase, especially when we found it is difficult to book different baggage / meal selections for each passenger through Expedia. Expedia works well when you're only booking for one. But if you have two or more travelling together, it's 'all or nothing' for the options, so unless all the passengers require the same baggage allowance, meals etc, don't use it unless you're OK with doing separate bookings for each. **Remember – with a common booking, you can combine your baggage allowance on AirAsia flights.
Do make sure you read carefully and check only the boxes you require, some boxes are pre-checked and you may find you have baggage, insurance or a hire car you don't want. Be aware too, that there is a 'convenience fee' for booking with your credit card.
First Impressions
Check-in is not complicated, but you do need to follow the instructions on your ticket – self check-in by web or at the kiosk when you get to the airport. You must make sure that you are within the luggage weight you have purchased, or you will be asked to either take something out, or pay for the extra. They are very strict about this.
As we had a couple of hours to wait before our departure, we decided to have our dinner at the AirAsia Premium Red Lounge. You need to go through Immigration and Security first, the Lounge is airside, to the left as you reach the satellite building. Turn left at the top of the escalator on the 'P' side. The food on offer was not the same variety as in the article, but was tasty enough, though the coffee was only lukewarm.
Passengers on a 'fly-thru' who are looking for a place to shower and relax, with free wifi, will find this a convenient and cost effective way to freshen up and have a meal. Entry is free for those with a Premium ticket, and payment is on a per entry basis for all other visitors.
On board, we were greeted in a friendly manner, found our seats and settled in. Shortly after take-off a member of the crew handed out Australian Immigration Arrival cards, which all passengers must complete.
The seat
This aircraft is configured into Premium and Standard seating areas, with twelve lie-flat seats in two rows in the Premium class.
The 365 Economy seats are arranged over three cabins, with divisions marked by the toilets. The first section, Rows 7-14, are designated a 'Quiet zone' not available to those travelling with children under the age of twelve and you will pay extra to book your seat in this area.
There is an exit row just before the start and another at the back of the wing separating the balance of the Economy seats into two cabins. These exit row seats (Row 15/16/17 and Rows 34/35 ) are designated 'hot seats' and are also available for a higher charge than a standard seat.
All standard seats are arranged three either side of a single aisle until Row 43, with those in Rows 44-51 arranged in a 2-3-2 layout.  My companion and I were seated in 47H and K, in the rear section. The window seats in this row have two windows, with a wall space between. The width of the seat is a standard 18″ as is the pitch at 32″.
The leather seats are comfortable, they have small foldout head / neck supports. These are fine if you are tall or the seat is not reclined, but some passengers may find them not much use. If you are tall, you may appreciate the fact that they can be raised.
Legroom
Legroom is a little tight, standard 10″ which makes it difficult to reach anything you may have dropped on the floor or for those with longer legs.  If you're on a longer flight, you may find it uncomfortable and it may make it difficult squeezing out for a trip to the washroom. this is the main reason we opted to sit in the paired seats at the rear of the aircraft.
There is no footrest, but the space beneath the seat in front is clear for all seats, as there is no entertainment unit under the seat, often an issue when it takes up passengers legroom in these seats in some airlines/aircraft.
This extra space is more than enough for a small bag to be pushed completely into the space, or for longer legged passengers to stretch out more easily. The magazine space is quite tight, enough to fit a mobile phone or a novel.
Workspace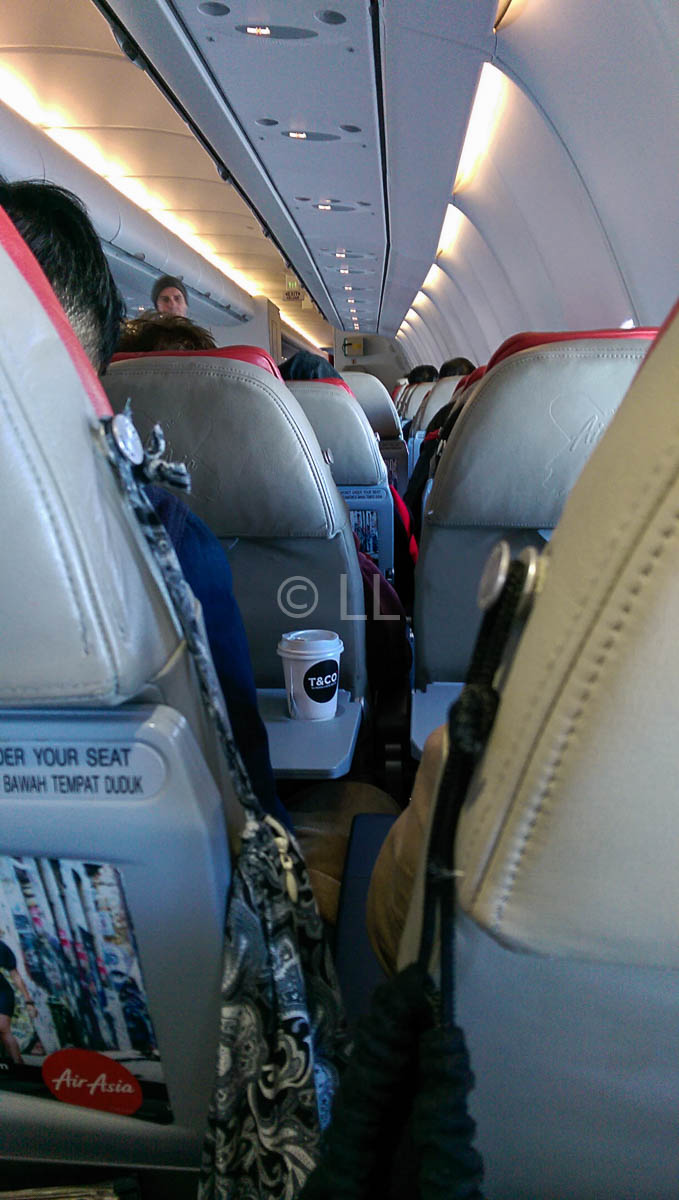 The tray table is a fold down, one piece table which can be pulled closer to the user during meals, or to use as a work space. There is a cup space and a 'tummy cut-out', but as there is no power supply, we didn't use any devices and didn't see any other passengers bother either. It was a night flight, so most people chose to sleep anyway.
Entertainment
There is no in-seat entertainment available on board this aircraft. However, you can rent a portable device preloaded with entertainment options. This is only available on Australian flights and pre-booking (MYR 49) is advised. If available, they will cost MYR 60 on board.
In-flight announcements were clear and timely. As some turbulence was expected along the way, an announcement from the deck just after take-off provided the usual details and added that we would be moving up to 41,000 ft quite quickly because of the weather. The mention that the temperature was 280C was also handy, the flight was more comfortable as a result. The morning announcements were also clear and easy to hear.
Food
Pre-booking is the best way to ensure you have your choice of meal. You will also save a little and the meal comes with water/juice and a cup of coffee or tea. My companion selected Pak Nassar's Nasi Lemak which came with a separate pack of peanuts & anchovies. The chicken rendang that accompanied the rice and other condiments was authentic and the meal was given the 'thumbs up'.
This writer went for the 'big breakfast', orange juice replaced the water and there was a small tub of baked beans and a bread roll to accompany the scrambled egg, sausage and mushrooms. The meal was quite tasty and filling and could be considered quite good value. We elected to pre-order only breakfast, which as served about 5 am, about an hour and a half before landing. There is also a meal service not long after take off and meals for either or both can be pre-ordered.
The Best Seat
Seats between Rows 19 and 31 are over the wing. As seat selection is an add-on cost for AirAsia flights, you can take your chances and accept the allocated seat, or pay according to the indicated rate for a preferred seat. Most economy seats are a standard price, however 'hot seats' will cost you extra – these are generally Exit Row seats.
In this aircraft they are at the front of the cabin –
Row 7 in the quiet zone
Row 15 H, J and K
Row 16 D, F and G
Row 17 A, B and C
Row 34 D, F and G
Row 35, A, B, C, H, J and K
You will also pay extra to sit in the quiet zone, it's quieter because it's at the front, but also because children are not allowed in this section.
Seats behind the wing are significantly noisier than those forward of about Row 20, however, you do have more toilets available in the rear half of the aircraft. If you are bothered by people queuing for the toilet, you may wish to avoid aisle seats around Rows 16, 34 or the rear rows of 50 and 51. There is space in front of the toilets though, and people don't generally need to wait in the aisles.
From prior experience, we know that this flight usually tracks a route towards Brisbane, before making a right turn down the coastline to the Gold Coast. An early morning arrival will give you a fantastic view of the city as you turn if you have a window seat on the 'K' side, followed by an equally impressive view of the Gold Coast before you turn in to land.
Conclusions
Generally the flight was satisfactory, the seat was comfortable and the staff responsive and polite. Despite the lack of legroom, my seat was comfortable enough. I did appreciate that even though there is no footrest, there is no entertainment unit reducing the space under the seat and I was able to stretch my legs out comfortably.
The toilets were clean and appeared to be serviced regularly.
The Duty-Free cart did come around but the choices were rather limited. If possible, pre-purchase your selection and have it delivered to you on board.
Travel by Economy Traveller was self-funded. 
images © LL