We flew AirAsia X Kuala Lumpur-Osaka D7536 KUL/KIX recently, picking up D72 KIX/KUL on its return stopover from Honolulu. The aircraft used on this route is an Airbus A330-343 aircraft, configured with 377 seats across four cabins.
There are 12 Premium seats in the first cabin and 365 standard sized seats shared over the other three.  The first of these, Rows 7-14, is designated a 'Quiet Zone'. There's no Row 13.
On this trip we travelled in the Quiet Zone, just behind the Premium Section.
The Quiet Zone experience
You will pay a bit over 50% extra to choose a seat in the quiet zone. Hot seats (those in the first row) in this cabin cost another MYR 100 over that. 
There are two main reasons for the extra you pay for a quiet seat.
Children are not allowed in this section.
It's quieter because it's in front of the engines.
You also have a galley and toilet between your cabin and the next as well as curtains.
Seats behind the wing are significantly noisier than those forward of about Row 20 although those in rows 15 – 20 are not as quiet as those further forward.
Day Flight in the Quiet Zone
Our seats for our flight Kuala Lumpur-Osaka D7536 were 10J and K. There was nobody seated in 10H.
The flight was quite full, but probably because of the significant cost difference, there were plenty of empty seats in the Quiet Zone, so most people were able to spread out.
The toilet is just behind the curtain on the ABC side of the aircraft. This is the only toilet serving this section and it faces the space beside the Exit door. There's plenty of room to wait and nobody to disturb as it is behind the door curtain.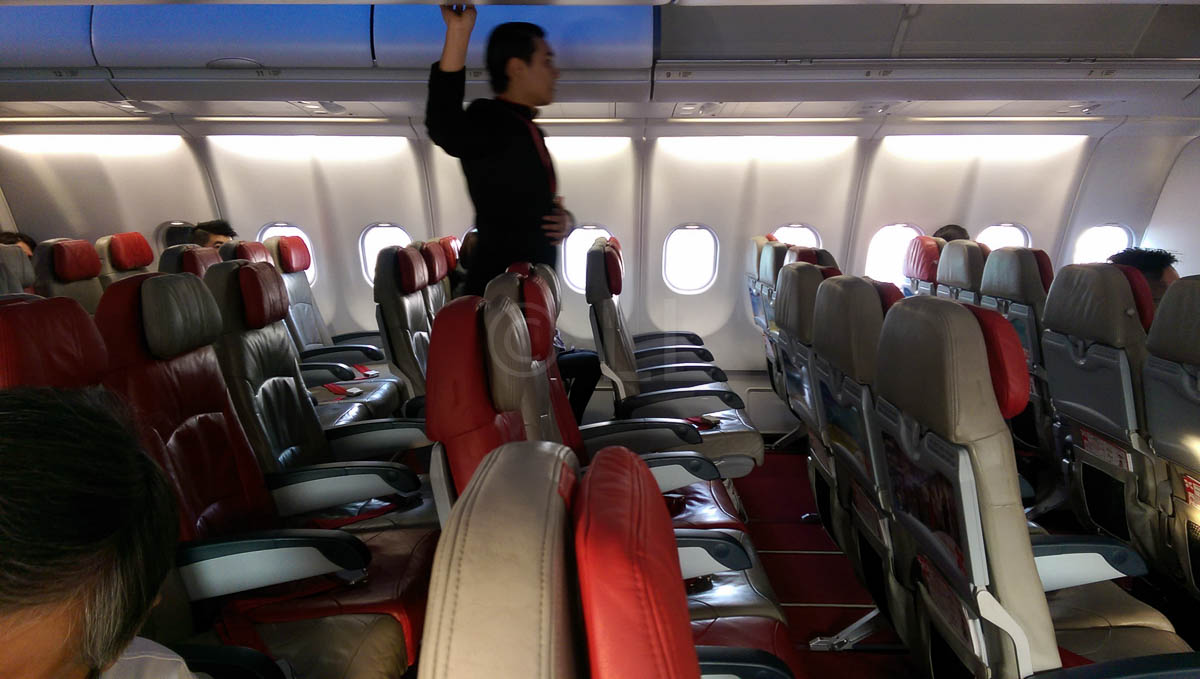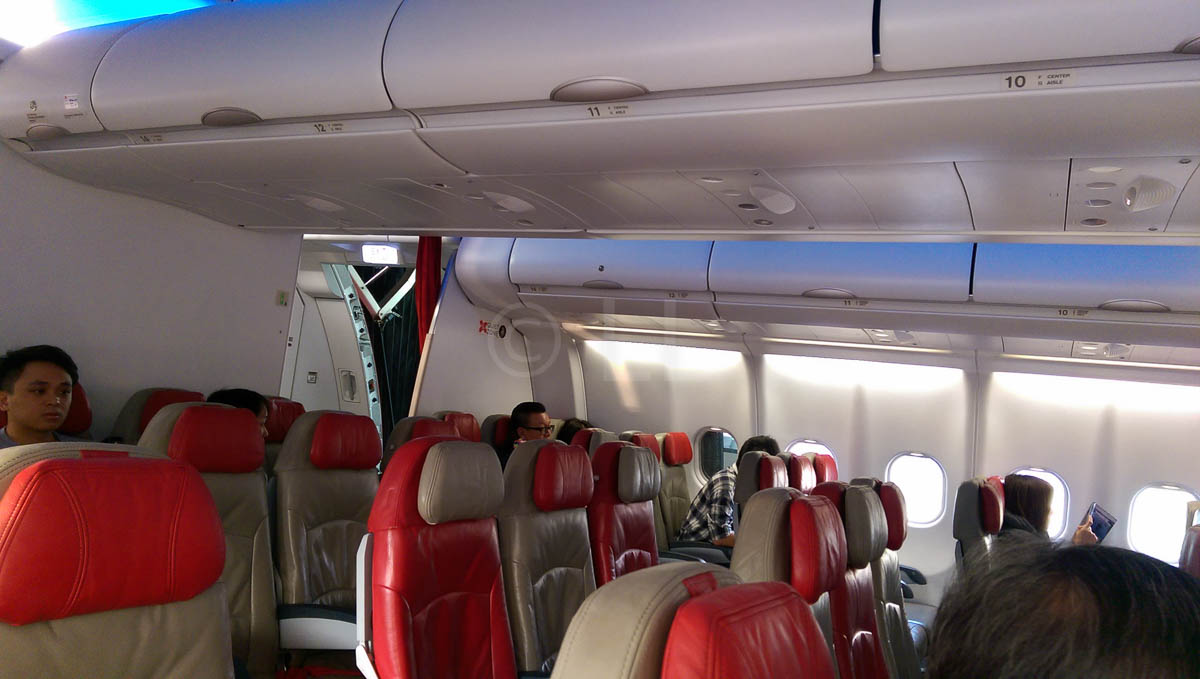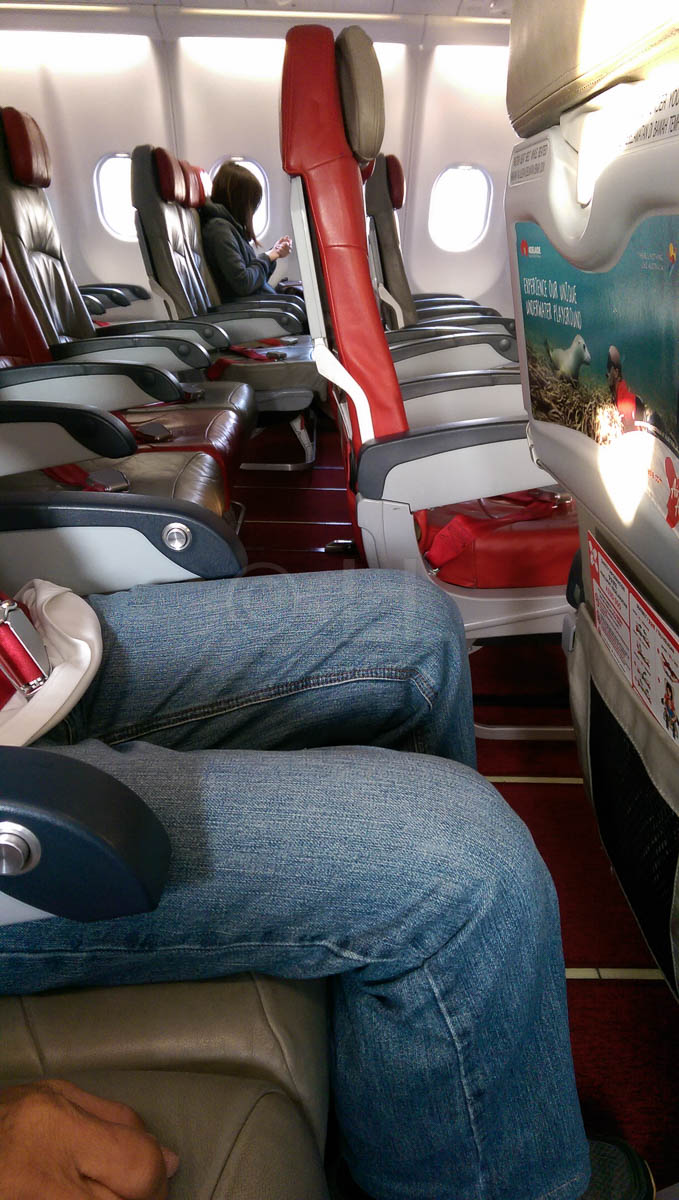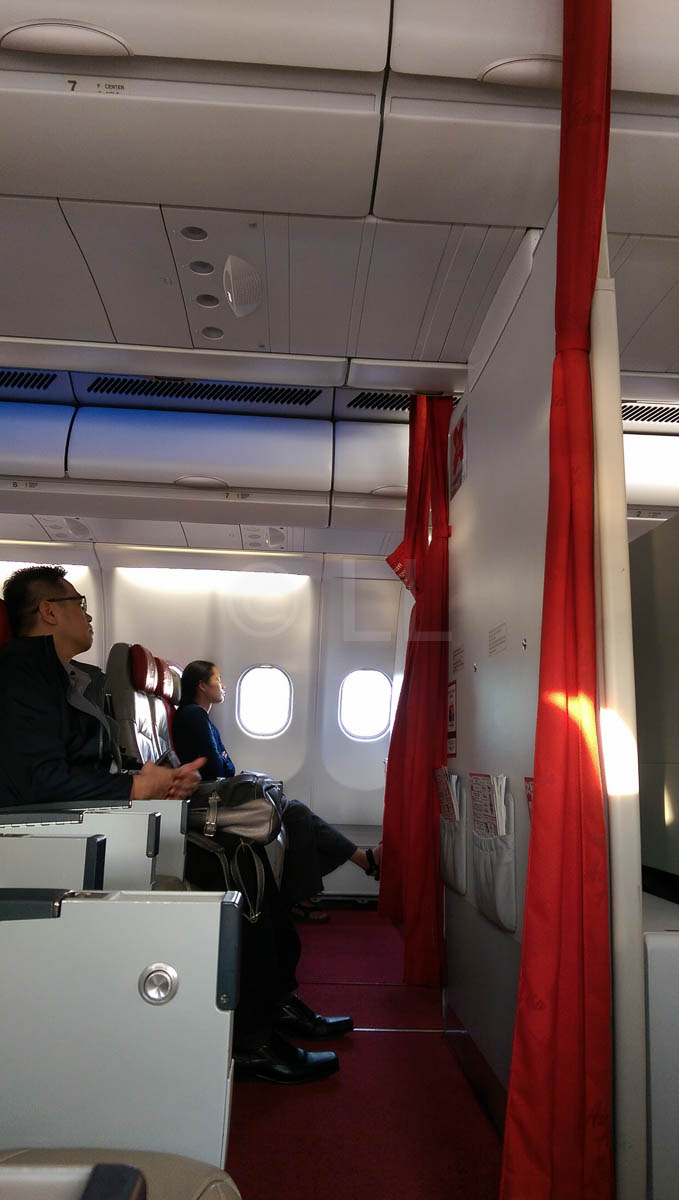 Night Flight in the Quiet Zone
Our Osaka-Kuala Lumpur leg, was the second hop of flight D72 from Honolulu. For this leg we had seats 9J and K with nobody in 9H. This meant we could stretch out.
It's handy to note that while you can pay extra for the 'empty seat option', in practice, if there are spaces, the crew are relaxed about you spreading out. If there are whole rows of three seats available, they're also OK with you moving. There are some low cost airlines that do not allow this and collect money before you can move.
This was an overnight flight, so like those who'd already had a long trip from Honolulu, we planned to sleep. As on our outward journey, this section had plenty of empty seats. Therefore, most of the passengers were able to stretch out, or even lie across seats.
Our A330-343 aircraft, 9M-XBC, pulled back from the gate just before our scheduled 10pm departure time. We were in the air by 10.07pm. 
The crew thoughtfully did not disturb us with a 'trolley run' and the cabin lights went off quite quickly. Both of us managed to get around 3+ hours sleep before the cabin lights came up and the food and duty free trolleys did their rounds.
There were children on board, but we couldn't hear them, so they were either sleeping too, or any crying just couldn't be heard
Although our flight was expected to land only at 4am, our pilot was obviously keen to reach home, landing us smoothly 40 minutes early. We pulled in to the KLIA2 gate at 3.22am.
Arriving early at KLIA2
A number of flights arrive in the early hours between midnight and 6am. Expect reduced staff on duty at both Immigration and Customs. We didn't experience any queues.
Before 4am getting transport might not be easy, as most of the options are really only available from about 5am. Taxis usually add a surcharge before 6am. We found that quite a lot of food outlets are open at that time and as we chose not to eat during our flight, we stopped for breakfast. There are outlets open on Level 2 (Arrivals), on Level 2M, the Food Court and Premium Lounge, as well as Level 3 (Departures).
To get between the levels, there are quite a few lifts and escalators. The closest to Arrivals is to the right as you exit the doors. There is another escalator up to the Mezzanine floor if you leave Arrivals by the passage between International and Domestic Arrivals. Find the lifts and an escalator to the Departure area just past the entrance to the passage. 
Food prices go up from less than MYR10 for kaya toast and coffee at Nyonya Colors (near McDonalds) on the Departure Level.
The Best Seat
If you're not sure if you'd like to pay the extra for the quiet zone, check out our story on best standard seat on an AirAsia X A330. We identify the 'Hot Seats' the seats with easy access to toilets and where you can book a bassinet. We also help you identify which seats to avoid.
Workspace
The tray table is a fold down, one piece table which can be pulled closer to the user during meals, or to use as a work space. There is a cup space and a 'tummy cut-out'. As there is no power supply, we didn't use any devices and saw only a couple of other passengers using them during the day flight. During our night flight, most people chose to sleep.
Entertainment
There is no in-seat entertainment available on board this aircraft. However, you can rent a portable device preloaded with entertainment options. This is available on  all AirAsia X flights except to New Zealand, Nepal, Saudi Arabia and United States. There are limited units available, so pre-booking (MYR 49) is advised. If available, they will cost MYR 60 on board.
Food
The food available on all AirAsia and AirAsia X flights is the same, regardless of where you choose to sit. We pre-ordered meals on our flight to Osaka, but chose to sleep on the return journey. We also tried out the brownies, cookies, teh tarik and Vietnamese coffee on our outward trip. **TIP The Vietnamese coffee is quite strong, but smooth. The crew were happy to give an extra cup of hot water to calm it down.
The food choices in the AirAsia 'Santan' menu are good enough that we've never had to call a 'miss'. They are tasty and have ingredients that can be identified. That is, the veggies do look like veggies!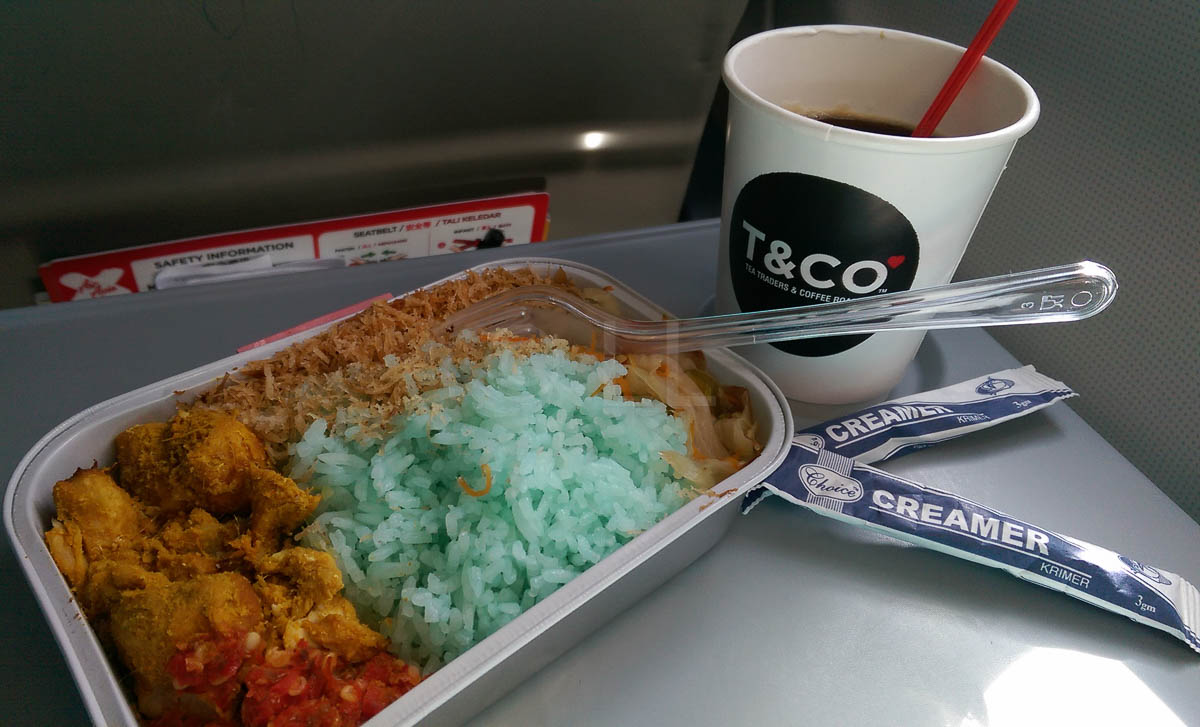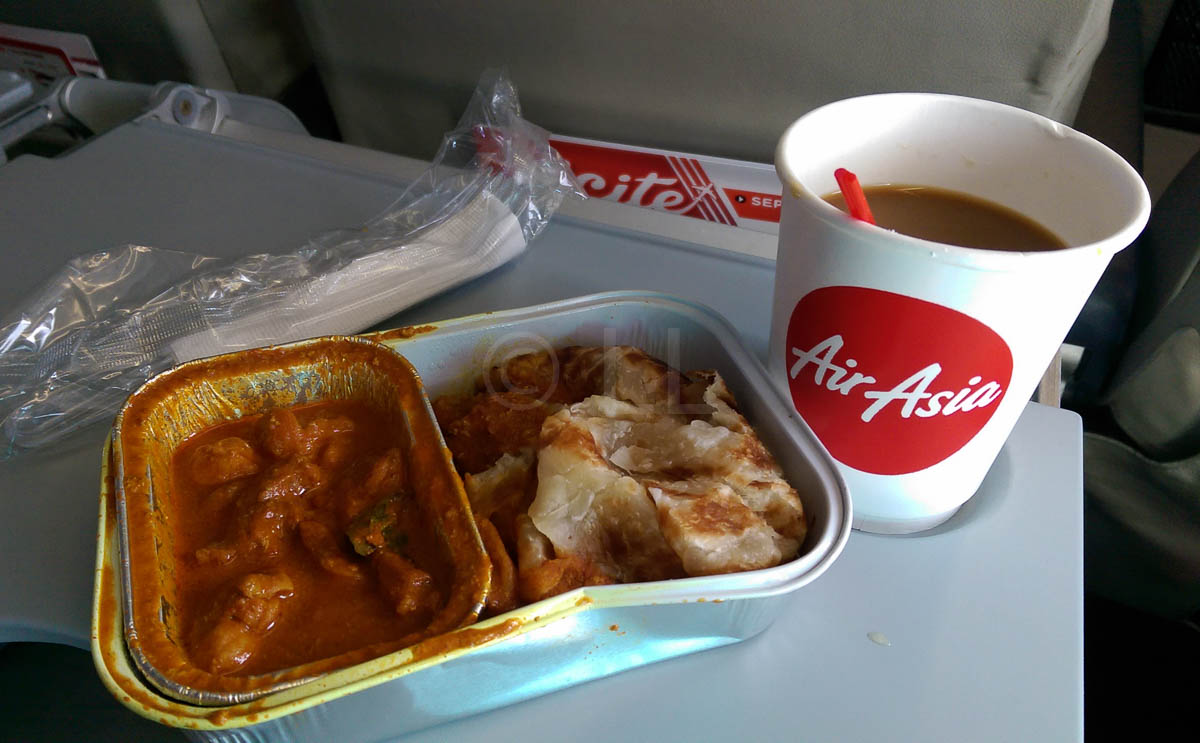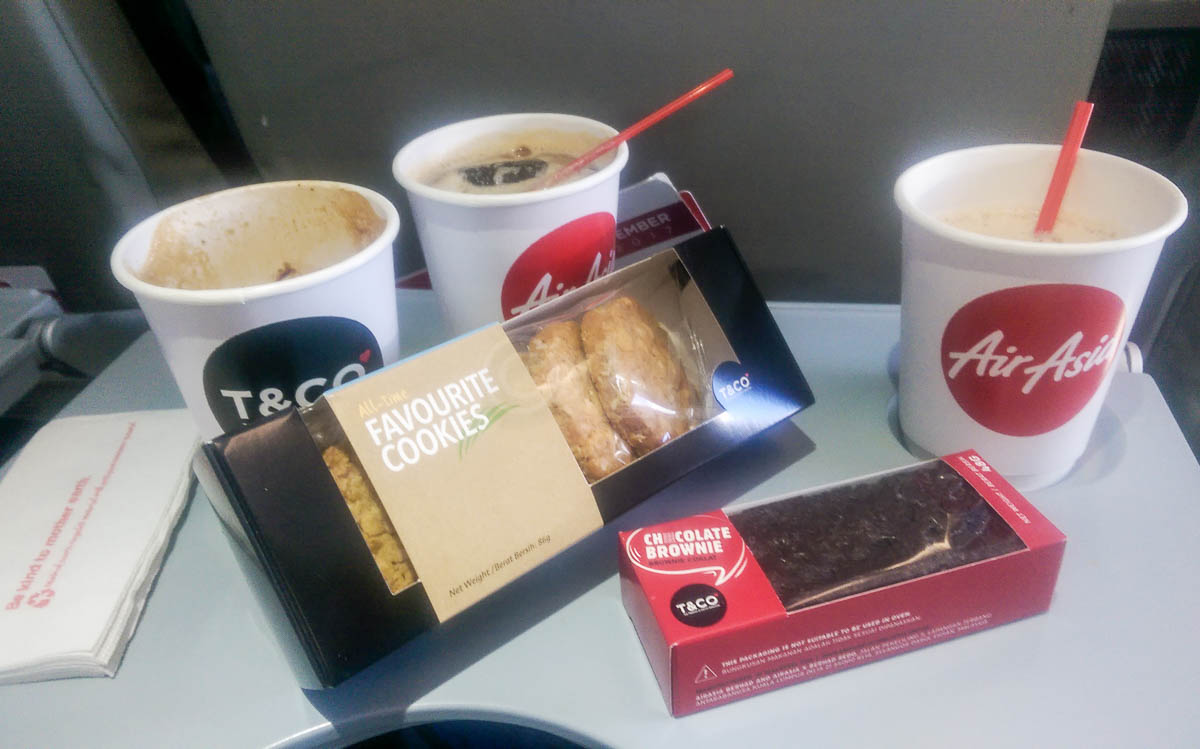 Conclusions
You will pay extra to sit in the quiet zone, it's quieter because it's at the front, but also because children are not allowed in this section.
Generally both flights were satisfactory, the seat was comfortable and the staff responsive and polite. Despite the limited legroom, (11″ isn't too bad), you can stretch your legs in front as there's no footrest. There is no entertainment unit reducing the space under the seat either and there are only two supporting struts.
There is one toilet available at the rear of the Quiet zone cabin, in front of Row 15. It was clean and was serviced regularly. As the waiting area is beside the exit door, there's plenty of space to wait. You'll also not bother anyone as you wait.
The Duty-Free cart did come around but the choices were rather limited. If possible, pre-book your selection and have it delivered to you on board. Read about our experience with pre-booking here.
Travel by Economy Traveller was self-funded. 
images © LL