The Year of the Tiger is just over a week away and Santan have something special for those who like their salmon cooked, not raw as in Yee Sang! Even better, they've paired it with their popular Pak Nasser's Nasi Lemak. Their special Golden Salmon Nasi Lemak is only available for a limited time and we had a chance to give it the taste test, pre-launch. The juicy piece of salmon is cooked berempah style making it a worthy addition to Santan's best selling Nasi Lemak and the sambal, as always, was 'just right'. It definitely received an A+ on our taste test and over the holiday period we look forward to enjoying at least one round with family and friends, with extra side dishes to round out the party.
Pak Nasser's Nasi Lemak Special
Pak Nasser's Nasi Lemak Golden Salmon is the top offering on Airasia's Santan Year of the Tiger menu. You can enjoy the best Nasi Lemak in town with crispy salmon berempah fried to golden perfection. It's served with fragrant rice and the signature Pak Nasser's sambal. The golden meal also comes with add ons of aromatic Cauliflower Goreng Rempah and Mushroom Goreng Rempah, both perfect as a delicious side dish.
You want more variety? There's lots to choose from in their reintroduced meals priced from RM9.90. Choose from a range of delicious choices including
ayam goreng berempah
chicken rendang
sambal sotong
boneless fried chicken
salted egg prawn
beef rendang
tofu and tempe and more, including tasty Indomee and flavourful burgers.
How to buy?
The special Chinese New Year menu launched on Monday 24th January 2022.
The new menu is available for: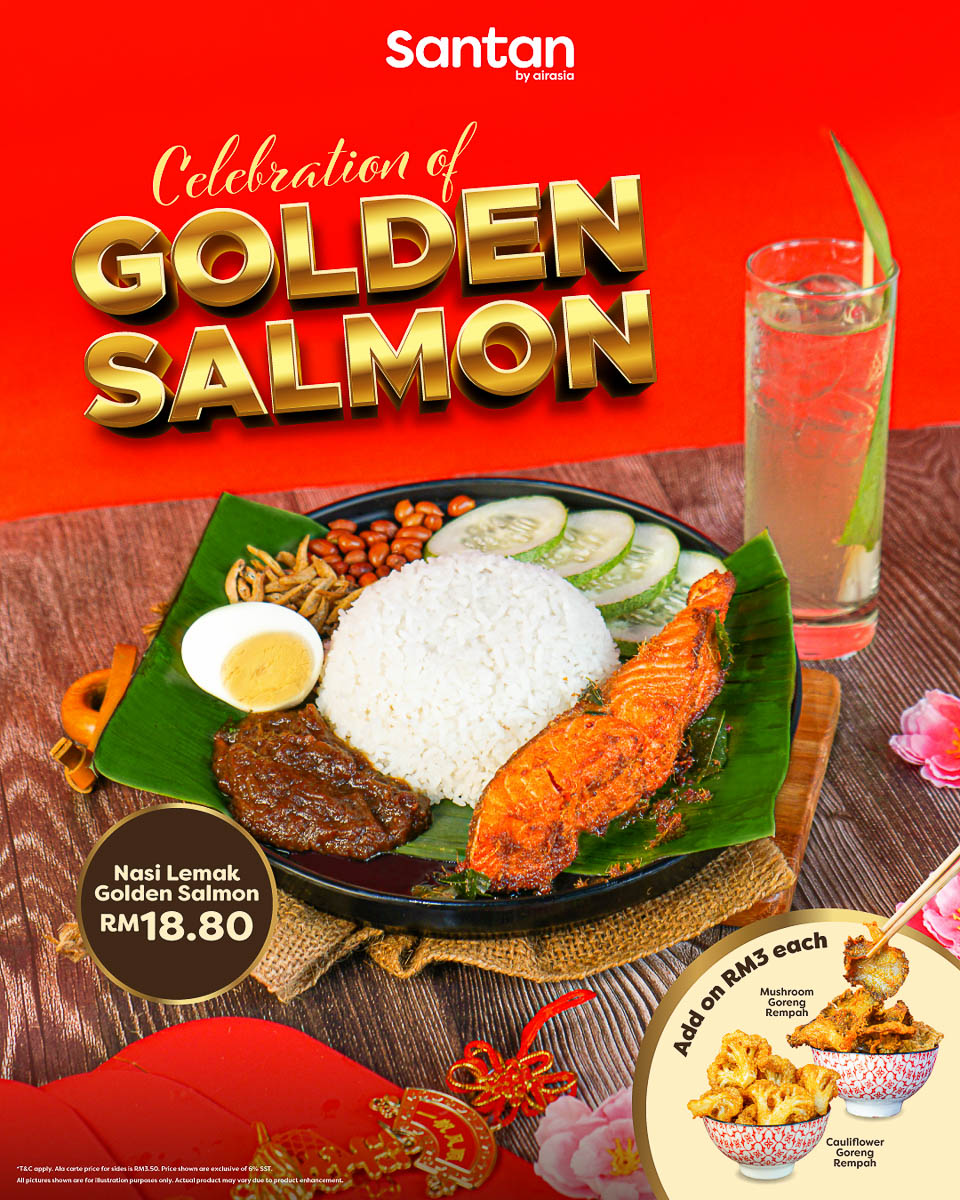 You can also download the airasia Super App now and click on the 'Food' icon or visit airasia.com/food to see other exciting offerings!
Gong Xi Fa Cai!