Malaysians love to eat out and the takeaway culture is well developed. So if you're used to doing 'tapau', 'bunkus', you'll love OURFOOD delivery service. AirAsia's cargo and logistics subsidiary Teleport has mobilised its logistics infrastructure and technology to introduce OURFOOD. This new kid on the block offers a seamless, fuss-free and affordable solution for both customers and restaurateurs. Please note that OURFOOD is now renamed AirAsia food, following the recent Group-wide move to link the companies under one platform.
OURFOOD delivery service
This concept is perfect for F&B Businesses Partner Outlets which take orders directly on WhatsApp, Facebook and Instagram. The process has been simplified for both the partner outlet and the customer
Partner Outlets

share a customised menu link to their customers for
pre-order or
immediate food delivery

Customers can use a single link to

pay
check out
track their food order status in real-time
The OURFOOD delivery service is part of AirAsia's Save Our Shops (S.O.S.) campaign, a Covid-19 related initiative.
….. We've seen an encouraging adoption rate for OURFOOD, as it reduces administrative work of managing payments, orders, and logistics for both F&B businesses and customers. Sabrina Khaw, Head of OURFOOD
The OURFOOD pilot launched on 14th May, has provided valuable feedback about the experience and features. She hopes Partner Outlets will use this pandemic for growth, rather than merely adapting or surviving in the new normal.
Sign up to be a Partner Outlet
The prepaid plan includes both transaction and service fees, while customers pay the delivery charges. There are no sign-up fees, contracts, or special devices required. Both Partner Outlets and customers can earn and redeem AirAsia BIG points for every transaction.
Other useful features that set OURFOOD apart from other food delivery platforms:
All types of F&B business are welcome

from home-bakers to multi-chain outlets

Easy sign-up process
Ability to fully customise the menu
Enjoy automated payment and in-house delivery solutions
On-demand and pre-order delivery options available
Reporting functions available
Delivery coverage of up to 40km
Interested?
You can sign up to become an Partner Outlet on a signup form at the bottom of the AirAsiaFOOD page. For more information, visit airasia.com/food.
Want to do deliveries instead? Sign up here to be a Teleport Delivery Partner.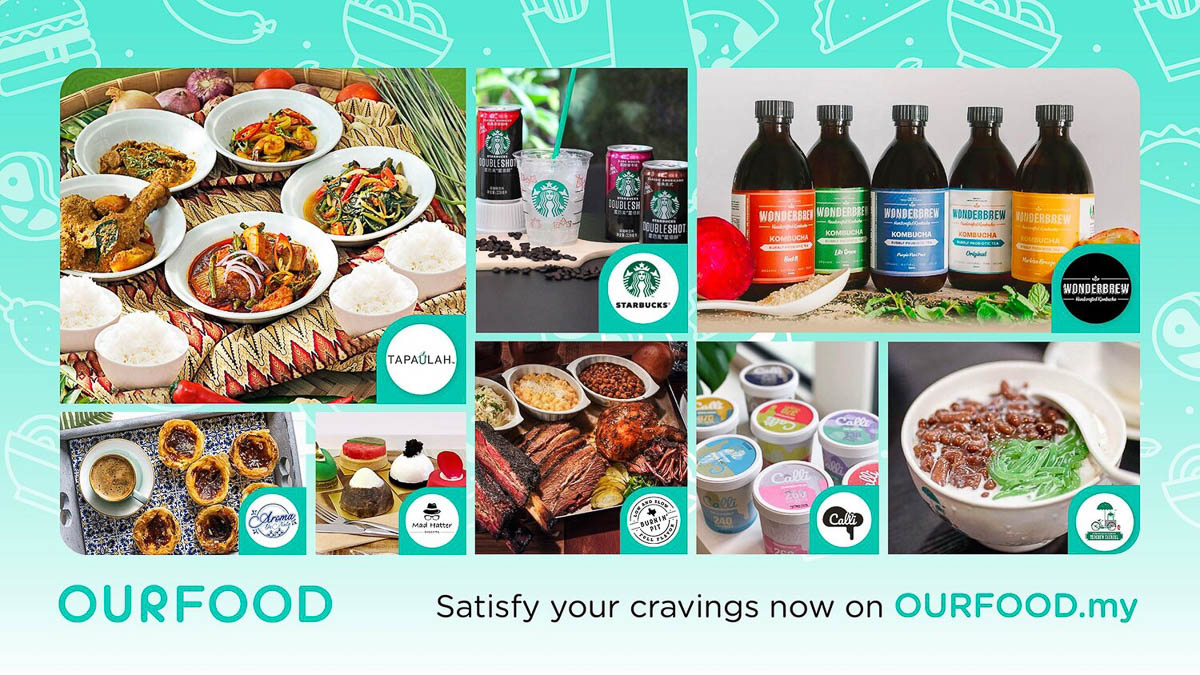 Who's already on board?
OURFOOD's first 36 Partner Outlets include Agrain, Ahh-Yum By Kampong Kravers, Aroma De Nata, Aunty Sam Satay, Berjaya Food, Burnin'Pit, CALLI, Canning Heritage, Darts Line Western Food, Emery School of Coffee, Enorme Italian Restaurant, Gajah Mada, Gogopot, Junandus, Leng Zai Bak Kut Teh, Leaf Dining, MadHatter Desserts, M Fried Chicken, Mean Mince, Mozzarellaaa, Penang Chendul, Pizzazone & Tapasta, Prawn Noodle King, Pretty on Plate, Restoran D Chow Kit, Rizal Filipino Cuisine, Rojak Cendol Mat, Sarang Cookery, Shu Xiang Lou Hotpot, Signature Fei Fei Crab, Tail & Fin, Tapaulah, Tandoor Grill, Thirty3 Bites, Wingstop and WonderBrew Kombucha. Check out what's on offer for each outlet in The Menu. There are currently nearly 80 outlets listing their menus in the Klang Valley. The first expansions will be in Penang and Johor with a wider reach planned.