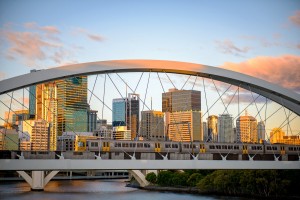 Brisbane's Airtrain promotes itself as the fastest, easiest and most cost-effective way to reach Brisbane, the Gold Coast and suburbs from Brisbane Airport. The journey to the airport takes only 20 minutes and will be a blessing during the G20 Summit to be held in Brisbane on 15th and 16th November. Organisers have announced road diversions to aid the flow of traffic, but delays are expected.
Brisbane's Airtrain will have no restrictions on services and will offer the most reliable way to get quickly to and from the airport. An adjusted timetable with trains departing every 30 minutes between Brisbane Airport, Brisbane City and the Gold Coast from the 14th and 16th November is available on their website at www.airtrain.com.au/g20. The Airtrain will take you to / from the City Centre close to the Convention Centre, shops and hotels. It should be noted that the train will not stop at South Brisbane and passengers should alight at Central Station or Roma Street.
Plane spotters affected by viewing area closures during the event may find the journey between Eagle Junction and the Airport offers the best view of Presidential and other VIP jets.
Airtrain have also announced a new iPhone app which will help smoothen trips during the G20, offering timetable information and a handy "Next Trains Today" function showing the next train's departure from any station on the Airport line. Passengers can also use the app to display an e-ticket barcode when entering and exiting a station.
Adding to the convenience, Brisbane Airtrain is offering a 10 per cent discount for all online bookings as well as discounts for groups of two or more, starting from $27 for two passengers booking online at https://www.airtrain.com.au/cbdtransfer from the airport to Brisbane city. This is considerably cheaper than the average taxi fare of $43 for an equivalent journey. Children 14 years and under can also travel for free to the CBD when accompanied by a paying adult.
Please be aware that the nature of the Conference may necessitate some last minute timetable adjustments and aa flight movements may also be affected passengers are advised to plan accordingly